When business trips go smoothly, travelers return home feeling satisfied. But are they happy? Satisfaction and happiness aren't always directly correlated, and travelers believe there's plenty of room for improvements when it comes to their happiness on the road.
By measuring and tracking traveler happiness at your organization, you can improve policy compliance and employee retention rates. Here's why traveler happiness is important to the continued success of your travel program.
What's the difference between traveler satisfaction and happiness?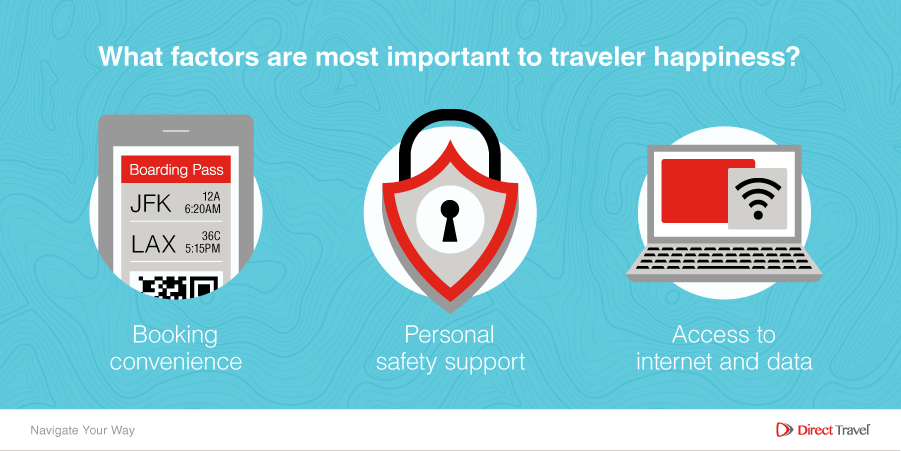 Travel metrics that measure traveler experience can show travel managers how to improve compliance, and HR stakeholders how to increase retention rates. Generally, satisfaction is the term used when attempting to quantify the traveler experience. When travelers are satisfied with their trips, they are less likely to book off policy or seek employment elsewhere.
Mere satisfaction, however, should not be the only goal. To measure traveler happiness on a large scale, Business Travel News developed a Traveler Happiness Index, which uses survey information from business travelers to determine where suppliers and travel managers are missing the mark. In 2017, traveler happiness rates were quite average. BTN graded total traveler happiness at 59 for women and 56 for men according to a 100-point scale. Everyone surveyed agreed that the three most important trip experience factors are convenience, personal safety support and access to internet. How does your current travel policy stack up? What can your policy do to make it easier for employees to catch flights at convenient times or stay connected while on the road?
Another survey, from Chrome River, revealed that the ability to visit new places is travelers' favorite aspect of business travel, while spending time away from family is the least favorite part. Choosing favorite suppliers, earning loyalty points and simplifying expense procedures were also key factors when it comes to traveler happiness. What travel managers ought to do when they see studies like these is to research what is important for their travelers first, before adapting their policies to mitigate what travelers dislike most about business trips. For some organizations the key to increasing traveler happiness might be more flexibility around adding a day or two of leisure to the end of a business trip and for some it might be negotiating with airline suppliers for better in-flight perks.
Traveler happiness and program compliance
Improving traveler happiness can better prevent future instances of policy noncompliance than improving satisfaction. It's more than just a rhetorical change. Employees book off policy when they want more choice and more comfort. For example, travelers may book off policy to pick an airline they personally prefer, get a better seat on a flight, circumvent a long layover or find hotel accommodations closer to a meeting. It is the goal of the travel manager to align employee expectations with supplier contracts. Sometimes all it takes is an explanation to travelers as to why their employer chose one supplier over another, or perhaps a discussion about which airlines, rental car companies, etc. employees enjoy most and why.
Actually implementing measures to increase happiness, however, will be a strategic challenge. How exactly can they turn those good vibes into policy guidelines? There isn't a single answer to this question, but there is a growing need for more robust documentation of traveler preferences and desires, which begins with open dialogue on what makes everybody happiest when they travel.
Travel management company in the middle
Ultimately, a travel program focused on happiness must be personalized if it is to be successful. Each traveler has his or her own preferences. What makes one person happy could cause someone else displeasure. To gain greater transparency into individual traveler preferences, travel managers need access to data.
When working with a travel management company, the information on every qualified traveler is collected and managed through a streamlined traveler profile system. It can contain any type of information from basic documents needed to book travel to any important personal preferences. This ensures that when a traveler is booking a trip, the travel management company has all the information they need to book the best experiences possible. If a traveler prefers to rent an SUV over a sedan, for example, and such rentals are within policy, the preferred option can be reserved the first time.
Building and maintaining a traveler-centric program requires a strategic touch. To learn more about how to improve traveler happiness at your organization, check out this Navigator Blog post:
Improve Your Company's Traveler Experience by Starting with These Challenges