When corporate travelers are happy and at ease, they bring their A game to every client meeting and conference. But positive traveler experiences require effective travel policies. Does your travel policy address these key challenges?
Flight delays and cancellations
The business world doesn't stops, but flights occasionally do. In 2017, airlines canceled 77,369 flights and another 944,172 were delayed, according to the Bureau of Transportation Statistics.
So it's no surprise that, according to a survey from the Global Business Travel Association, 42 percent of corporate travelers in North America ranked changing a flight reservation during a trip among their top five concerns with corporate travel. The best corporate travel policies will always account for possible disruption and include clear, actionable contingency plans for such occasions.
Corporate travel managers who want to take things a step further should partner with travel management companies. TMCs can provide resources needed to create alternative travel plans and support employees on the road.
Waiting at airport security
Long security lines can cause travelers on a tight schedule a lot of stress, but planning ahead can alleviate this pressure.
Does your company take advantage of security fast track services like TSA PreCheck? After undergoing a 10-minute in-person background check at one of the 380 enrollment centers around the country, travelers are given exclusive access to a special line at airport security. PreCheck fliers do not need to remove their shoes and outer clothing, nor are they required to remove electronics from their carry-on luggage. According to the TSA, 93 percent of PreCheck passengers waited less than 5 minutes at airport security in December 2017. A TMC partner can help your travelers sign up for TSA PreCheck by organizing a group enrollment at your office or a convenient location.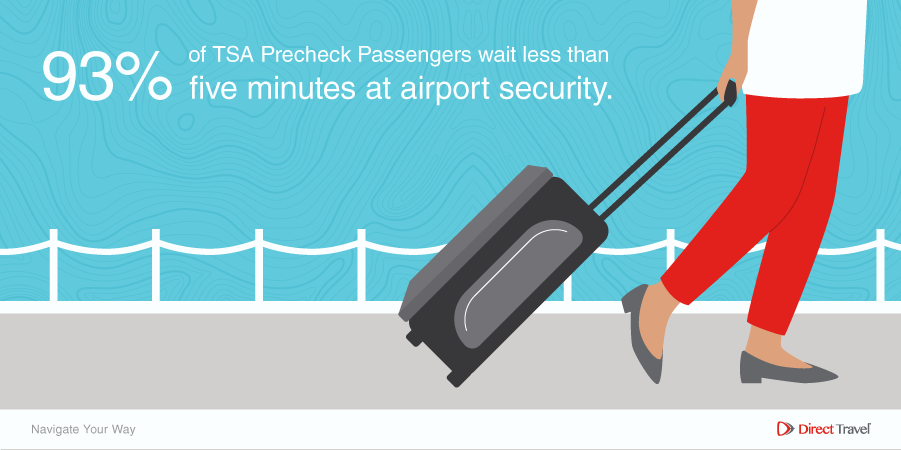 Ride-hailing apps on the rise
Since Uber launched in 2009, travelers have quickly turned ride-hailing apps from a novel technology to a normal means of transportation. Travelers can get a private ride from the airport to their destination without needing to wait in line for a taxi, fill out paperwork for a rental car or worry about parking. For many businesses, these apps are a boon to traveler experience.
With that said, a robust travel management policy must account for these apps and address any concerns regarding budget compliance that may arise from their use. For example, enterprise travel apps should remind travelers to record their Uber receipts for more accurate expense reporting and policy compliance.
A travel policy could also include provisions specific to ride-hailing including cost limits, the types of cars that travelers may hail, acceptable surge pricing conditions and more. Given that this technology is still relatively new, the details of this policy section may require some fine tuning, but that's where an experienced travel management partner can lend its expertise. A TMC can help you encourage engagement, track usage and alter your policy accordingly.
Direct Travel is one of three travel management companies in the U.S,, and Vision Travel, a Direct Travel company, is the only Canadian TMC to form an alliance with Uber for Business. Through this partnership, Direct Travel is able to expertly advise clients on how to incorporate Uber for Business into new and existing travel programs, ensuring every organization can benefit from a world-class ground transportation program.
As John Coffman, Direct Travel's CFO, explained in a recent post on the Uber Blog, "Uber for Business is doing something that has not been possible before–providing safe, convenient, reliable ground transportation in nearly every market across the globe. This partnership gives us an unprecedented opportunity to collaborate with Uber for Business and develop new, smarter ways to meet the needs of our clients."
Expense report compliance
Corporate travelers have a lot to focus on while traveling, so expense reports are often left until the last minute, when it's too late to correct compliance issues. As self-booking rises in popularity, businesses have to be more proactive about remedying policy non compliance.
Customized travel apps with direct messaging alert travelers when their bookings stray from the corporate travel policy and explain why their compliance is appreciated. Additionally, a travel management partner can help travel managers to develop a more robust and easy-to-follow policy to improve compliance as well as reporting.
To learn more about how a corporate travel partner can help you develop a strong travel policy that improves traveler experience, contact Direct Travel today.