As fuel prices rise, trade wars disrupt the status quo, and the value of labor increases, the cost of business travel could continue to rise significantly. Travel managers who want to keep budgets under control will need to take a more thorough look at the main travel categories in their programs to determine where more savings can be found.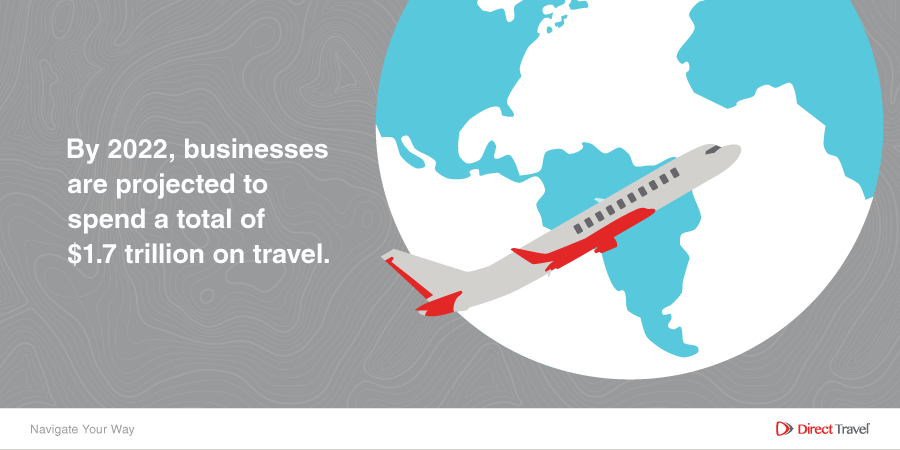 Globally, business travel spending increased by 5.8 percent between 2016 and 2017, and the Global Business Travel Association predicts that it will rise more than 7 percent by the end of 2018. By 2022, businesses are projected to spend a total of $1.7 trillion on travel.
Developing practices that encourage responsible spending and implementing strategies that drive additional savings can help counteract increasing business travel costs. In this Navigator Blog post, we are going to take a look at ways to find savings opportunities and improve your travel program ROI in the three traditional travel categories: air, car and hotel.
Look for Strategic Ways to Save on Airfare
Typical airline discount rates range between 2 percent and 15 percent. Generally, substantial discounts apply to the highest fares like business-class tickets and international flights, so your international volume would drive the highest return. Below are a couple of proven strategies that can help travel managers achieve additional savings on top of the airfare discount programs.
Price Assurance Tools: Work with your travel management company (TMC) to implement a price assurance technology that looks for lower rates and makes adjustments after a booking is made. This will not only guarantee that you pay the lowest price, but will also increase booking channel compliance and give the travelers who like to book in advance the assurance they need that any airfare decreases after the time of booking are being tracked and secured.
Unused Ticket Management: Develop a strategic plan to track any unused tickets and utilize those funds so that they don't expire. It should include negotiating name changes and adjusting policy to allow all unused credits to be pooled for the company to use prior to the expiration date. Your TMC can help you streamline this process through automated queries of unused, expired or suspended tickets, as well as the communication to travelers of approaching deadlines for ticket use.
Consolidate Ground Transportation Spend
Companies that contract with multiple ground transportation suppliers might find it hard to negotiate better prices due to a lack of leverage. Consolidating spend with a single strategic supplier rebalances the power dynamic and gives buyers more room to negotiate for greater savings.
Guaranteed Daily Rate: Strategic consolidation of your car rental spend can help you negotiate a guaranteed daily rate. This will reduce or remove surcharges, drive savings, and help you budget for ground transportation better, especially when you are comparing the car rental cost to mileage reimbursement.
Additional Savings: Even if suppliers are unwilling or unable to reduce rental prices, you may be able to secure savings elsewhere. Examples of potential savings include insurance coverage, negotiated rates for refueling, and status nominations for road warriors and leadership.
Practice Continuous Hotel Sourcing
Consolidation in the hotel industry in the last few years has reduced competition, which means it has also led to an increase in prices. You may find now that hotel category management has more to do with cost avoidance and not as much to do with cost savings. When it comes to finding savings opportunities in your hotel program, the key is to implement continuous sourcing practices.
Year-Round Hotel RFP Sourcing: Your hotel sourcing plan should consist of annual hotel RFPs with strategic high volume hotels, quarterly additions as well as on-demand year-round strategic sourcing. Work with your TMC to proactively review your travel trends on a monthly or quarterly basis and adjust preferred hotels to accommodate your business needs. This way, if there are changes to a specific destination for example, you are not making any assumptions about whether the preferred hotels that were negotiated last year are still relevant going forward.
Price Assurance Tools: Similar to your airfare monitoring, implementing a hotel shopping technology will allow you to continuously source hotel rates and make sure you are getting the best price. From the time a traveler makes a booking to the time of arrival, the price assurance technology will make adjustments if the cost goes down according to the perimeters you set (hotel/room type, distance, etc).
Improving your travel program ROI while staying on budget is an ongoing effort that requires a keen eye for trends in not only the traditional travel categories, but non-traditional ones as well. In an upcoming Navigator Blog post, we will reveal strategies to unearth hidden savings opportunities in non-traditional travel categories. In the mean time, you can learn more about how to reduce unexpected travel costs in your organization in this article:
5 Reasons Why Travelers Book Out-of-Policy (And How to Mitigate It)