Out-of-policy booking is a nightmare for travel managers. When travelers don't comply with their organization's travel policy, they reduce financial transparency, diminish savings potential, damage contractual relationships with suppliers, and can even cause serious duty of care concerns. And yet it happens every day—mainly because travelers don't fully understand how their actions can negatively affect their employers and even themselves.
Understanding some of the most common reasons for non-compliance can help you better mitigate it out of the gate.
1. Proximity to where they need to be
Travelers may believe that out-of-policy booking is fine when it means they can stay closer to their events. They may fear that staying too far away, especially if the meeting is early in the morning, could result in late arrivals and missed connections.
Solution: Policymakers should consider establishing guidelines for travelers going to cities where accessible lodging may be more expensive than average. In certain cases, having a flexible upper limit on hotel accommodations can meet both the traveler's and the company's goals.
2. Save the company money
In some cases, booking out-of-policy is less expensive than booking within policy, and well-intended employees might break the rules for the sake of saving their company a little money.
Simply put, the policy is intended to keep employees safe (i.e., a cheaper hotel room might be in a less safe area, or a discount airline may not have another flight option if the traveler's flight is cancelled or delayed) and maintain savings goals (i.e. a non-compliant—albeit cheaper—choice impacts the ability of the travel manager to negotiate better rates with preferred suppliers).
Solution: Thank the cost-conscious travelers for their attempt to be as responsible with the company's money as possible. Subsequently, assure them that corporate travel policy takes a wide array of factors into consideration, which in turn the burden of cost-containment off of travelers and allows them to focus on getting the most out of their business trips.
3. Bleisure
According to research from the Global Business Travel Association, more than one-third of North American business travelers (37 percent) extend their work trips for leisure. With many employees choosing to combine personal and business travel, travelers can begin to ignore policy about using certain properties in exchange for staying with a friend or family member—or at vacation rental properties like Airbnb.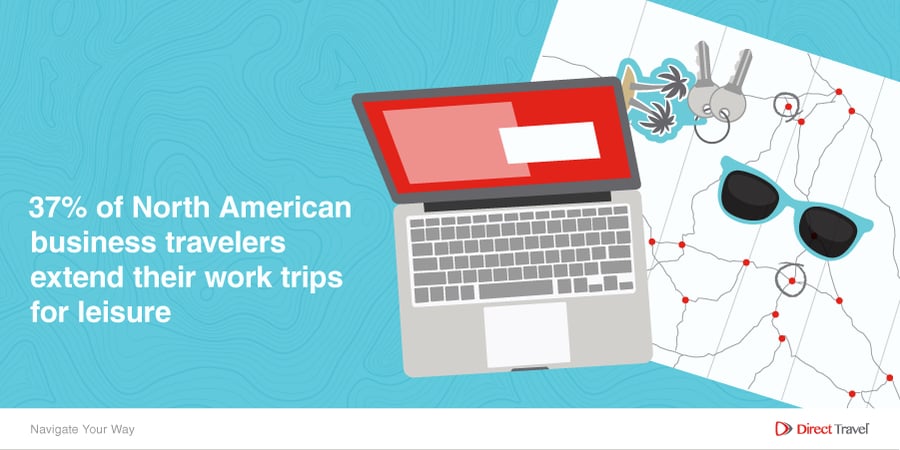 Staying with a family member or friend is certainly more affordable, but it could make it more difficult for the employer to reach the employee in the event of an emergency.
Solution: Establishing a database of emergency contact information can reduce the risk of being unable to reach your travelers, and allow for a fun personal visit. Exceptions can be built into travel policies (i.e. as it relates to hotel attachment) can also help you keep track of this kind of travel as well.
4. Ease of booking through a third-party
The internet has made it easier for travelers to research suppliers, booking accommodations and save money—but its content also changes constantly. With companies like Google beginning to disrupt the travel market by changing how people find and book travel, travel managers must understand the attraction booking outside the program, understand the complications it brings, and understand how to curb it.
Even Marriott International president and CEO Arne Sorenson says he spends more time thinking about Google and Facebook than Airbnb, and expressed concern over a new reality: Digital platforms drive the customer journey and lead them to the vendors that best correlate with each consumer's preferences.
"We all do business with [digital platforms]. We do partnerships with them. They've got data which is relevant to us. They can bring customers to us," Sorenson said, "but we've got to figure out: When do we partner and when do we really try and build our own ecosystem that gives us the sort of power we need to have a real return?"
Solution: Ultimately, when your travelers book outside of the program, it not only impacts your program savings and efficiencies goals, but it impacts your ability to help the traveler with cancelled flights or overbooked hotels or worse—a security concern. Work with your travelers to educate them once again on the multi-layered benefits of booking through the program, which effect both the good of the company and the safety and comfort of the traveler.
5. Leverage their loyalty programs
Recent industry research from Phocuswright and Acxiom showed that 62 percent of business travelers had signed up for at least one hotel loyalty program, compared to 54 percent of leisure travelers.
Why? Unlike leisure travel wherein the traveler pays to get the benefit, business travelers can benefit from air, hotel and car loyalty program without out-of-pocket expenses. Not surprisingly, travelers may be tempted to book with a supplier that from which they will receive loyalty rewards, even if that supplier is out-of-policy.
Solution: Managers should encourage travelers to check into the loyalty programs of policy-compliant suppliers. In addition, they may want to consider partnering with suppliers that can offer competitive traveler rewards.
Encouraging travelers to book within the company's travel policy can be difficult. Direct Travel takes the burden off with our industry experts and time-tested strategies. To learn more, reach out to a consultant at Direct Travel today.