Artificial intelligence is a promising field of computer science, capable of enacting great change in a wide variety of industries. In the near future, AI has the potential to reshape how we conduct business. But for now, we're still uncovering new and exciting ways to incorporate this seemingly limitless technology into our everyday lives.
Today's AI can speed up processes, find patterns in huge collections of data and make educated predictions about the future based on established trends. Keeping that in mind, let's look at few potential uses of AI for travel management.
Selecting the Best Booking Rates
Travel managers understand that time is extremely important when it comes to getting the best prices for booking travel. When the difference between booking a week in advance and two weeks in advance is several hundred dollars, it can pay to have advanced intelligence guiding how and when you book business trips.
One survey from SAP Concur found that airline tickets booked within seven days before a flight were 44 percent more expensive than the exact same flight booked 15 days ahead of time . And a single day can make a big difference. The same survey revealed that airline tickets purchased eight days out cost 39 percent more than those purchased 15 days out. Depending on where they're headed, travelers may also pay an extra last-minute premium to travel to places like France or Canada. That's why SAP Concur recommends that travel policies encourage travelers to book flights at least eight days in advance to avoid the highest ticket prices.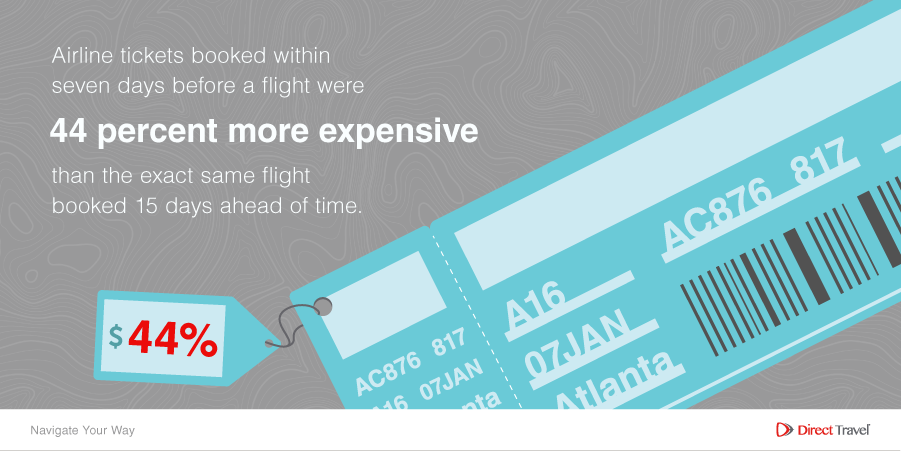 Does your traveler or travel manager have the time or patience to check and compare booking prices over and over again for weeks on end? Definitely not. An AI, on the other hand, can parse travel data much faster, thus increasing the likelihood of finding opportunities to control costs and optimize travel budgets. Plus, a customized solution could drill down into specific flight routes and provide intelligence that is more useful than general data.
Automating Manual Tasks
AI solutions can make work more efficient by optimizing tedious manual processes, thus freeing up travel arrangers as well as travelers to focus on more important tasks. A travel arranger could, for example, input a desired trip destination and time frame to an AI, which could then automatically suggest hotel listings and flight options based on the traveler's unique profile. Rather than emailing back and forth for confirmations and traveler preferences, the AI can make intelligent decisions and provide a handful of optimized travel choices, as opposed to dozens of potentially off-policy options.
During travel, AI can also speed up processes pertaining to expense reporting. SAP Concur's expense reporting solution, for example, utilizes deep learning and optical character recognition to automatically generate an expense entry from a photo of a receipt. The traveler snaps a picture, and the app handles everything else. No manual input, no saving receipts for later confirmation and, best of all, no complications when it comes time to reimburse employees or pay off the bill for the company card.
Customizing Digital Assistants
People with the latest smartphones have access to a digital assistant that utilizes natural language processing. As the technology continues to evolve, these general-purpose AI solutions will offer specific services to specific audiences, including the frequent business traveler.
Programmatically trained digital assistants could guide users through unfamiliar airports or alert travelers about weather conditions in arriving and departing cities. They could even set up dinner reservations, register for conferences or confirm in-person meetings on the user's behalf. In fact, Google Duplex can already make phone calls and schedule appointments naturally.
Stay up to date with the latest travel management innovations. To learn more about how your organization can benefit from tailored technology solutions, contact the experts at Direct Travel today.