For those who have never been, a safari experience is indescribably awe-some. And I mean that in the literal sense of the word—one is left in awe. An intimate look into the life of an ecosystem so foreign and unlike your home surroundings, the safari must be properly executed and paired with the right guides, lodges, and countries to fit the needs and expectations of the traveler. While many of our camps were water-based, we got a nice mix of land and water adventure, including some cultural experiences to round out the wildlife and game viewing. Coming home from the bush to a clean, relaxing lodge is important. Considering the placement of the property and how far from the park or reserve is also key in minimizing the time spent traveling on bumpy public roads.
While most visits to Botswana are a one or two day add-on to Chobe National Park, I encourage you to consider getting into the interior where the game is most plentiful and the hospitality unbeatable. It was here, away from wifi and paved roads, accessible only by propeller plane, that I felt most in Africa. While Chobe Game Lodge and Victoria Falls are wonderful destinations, something about the volume of people felt more manufactured—like a Disney World attraction more than the real deal. For this reason, I was pleased that the majority of our trip was spent in the interior of Botswana. I was happily surprised by the friendliness of the people in this country, especially compared to Zimbabwe where the population is more palpably destitute. It is important to keep in mind that in many places travelers must embrace the lack of connectivity (no televisions, no internet, no phone service) in some of the camps. For me, it was a much-needed digital detox, but if you are one who simply can't unplug, make sure your travel advisor is aware.
Botswana is a phenomenal choice for a safari vacation, especially in light of tense political affairs in neighboring African countries. With its stable economy, socialized education and medical care, and extensive wildlife protective measurements, the country delivered on every aspect of a safari experience that lovers of animals and wildlife would find unforgettable. Here is a look at some of the lodges and activities I experienced on my first trip to Africa.

Victoria Falls Safari Lodge Club- Zimbabwe
Resort: Victoria Falls Safari Lodge encompasses a main resort area as well as a more upscale wing referred to as "The Club". Here, in addition to more recently renovated rooms with sitting areas, the Club provides a complimentary breakfast, all alcoholic drinks, and afternoon tea with snacks. It has a very safari-chic sitting area that overlooks the watering hole for prime cocktail hour viewing. The resort sits on a plateau just 2 miles from the Victoria Falls in Zimbabwe, and overlooks a pristine area of bush that attracts game, and all rooms are sunset-facing.
Victoria Falls Hotel, a five star, Leading Hotels of the World historic hotel. It has a more colonial feel that appeals to some, whereas the Safari Lodge with its thatched roofs and African décor is more reminiscent of a lodge experience. I preferred the Victoria Falls Safari Lodge for its location in the bush and newer feel, but I would suggest the Victoria Falls Hotel for travelers who want the old world colonial feel and close proximity to the falls itself.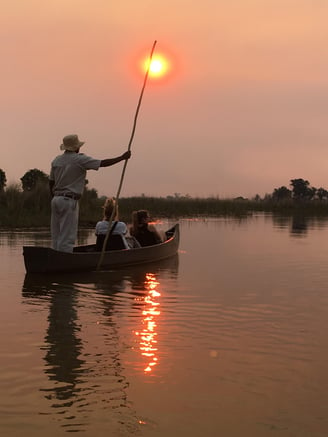 Activities: While it lacks a spa, the pool at the Victoria Falls Safari Lodge is sizeable and very natural-looking with a view of the bush. The resort has a fantastic conservation program aimed at restoring the local vulture population and educating visitors about the problems that face these scavengers. Also onsite is The Boma Experience, a festive traditional dinner and drumming show with local fare (including the Mopani worm --which is just as terrible tasting as it sounds, South African wines, barbecued warthog and impala).
Another activity not associated with the hotel is the sundowner cruise on the Zambezi where appetizers (like crocodile burgers!) and wine is served while watching the legendary Zambezi sunset. It was a relaxing, low key activity for a first night, and would also have worked well on the last night as a picture-perfect goodbye to Africa.
Finally, we went with a local guide to Victoria Falls on the Zimbabwe side. I'm told the Zimbabwe side is better for viewing the falls than the Zambia side, especially during the low-water season when the falls are not as full. We actually got a better viewing experience without the full extent of that "smoke that thunders" (a cloud of water from the falls that obstructs viewing). Helicopter rides at a whopping $150 for 15 minutes are offered, but the viewing points along the side of the falls were more than enough vantage points for spectacular views down and across. While we had a guide, it wasn't really necessary as the mile long walking path is clearly marked. Everyone should bring a waterproof shell because it gets quite wet from the mist of the falls!
LEROO LA TAU-Botswana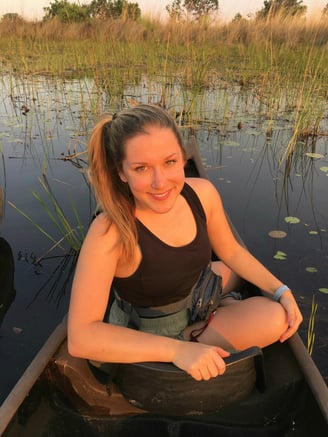 Resort: My favorite lodge in the trip, this resort features twelve luxurious thatched and glass-fronted stand-alone suites raised on a wooden platform. All overlook the Boteti River which borders the Makgadikgadi National Park. As such, the wildlife wades across the narrow river and can visit the encampment. The night before we arrived it had rained and there were actually fresh lion prints around the lodge!
The main lounge and dining area is an inviting two-story common area with restaurant, library, and bar. With a small but sufficient pool overlooking the river, this is a small lodge that makes up for its size with the warm personalities of its staff. Although technically a four star hotel, the attentiveness of every staff member and guide was remarkable. They made an effort to know every guest by name, going so far as picking up on your eating preferences and taking special care to accommodate them (they noticed quickly that I'm a coffee addict and made sure to always greet me with a cup!).

Activities: The lodge offers guided day and night game drives. Depending on the water level, boat activities are also provided. Because the lodge is situated on a river, a short boat ride across the lily-pad-bejeweled (yes, I invented this compound adjective) water is necessary to get to the park. Here we saw the most game out of any lodge as the river draws all the wildlife during the drier season for a drink. On the first afternoon we were greeted by lions, elephants, giraffe, zebra, and a leopard feasting in a tree!
The guides communicated constantly with each other to locate nearby game and, unlike in Chobe, went off-roading to find the best viewing point. This made for a really unique and custom experience. Evening sundowner drinks can be done in the boat overlooking the playing elephants or around a campfire under the stars!
We spent an afternoon at Khumaga Village coordinated by the lodge and visited the local school children. This was a really moving experience that added a nice touch of local culture to supplement our predominantly nature and wildlife-based days. This excursion can be arranged by the camp and is a great way to get in touch with the local community. They accept donations and school supplies, so make sure to bring some crayons and stickers!

CAMP OKAVANGO-Botswana
Resort: Also accessed by small propeller plane and a private air strip, Camp Okavango sits in the Okavango Delta known for its water wildlife and high concentration of elephants. To take advantage of the delta views, rooms are also on wooden platforms and the entire camp is an elevated series of walkways like a network of tree houses! A very small lodge, Camp O only accommodates 14 guests and has 11 suites with 2 family units. This maintains a very intimate, quiet, camping experience.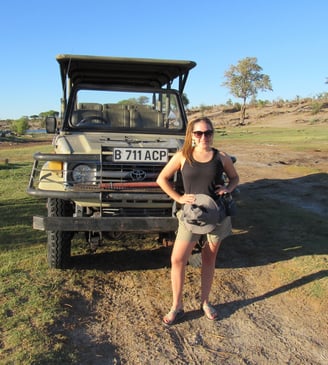 The rooms at this lodge were my favorite. Each suite stood alone like a treehouse with thatched roof and tented walls. While primitive looking from the outside, the interior was luxe with brass fixtures reminiscent of the colonial era and had a distinctive Victorian feel. Each unit had a wide deck with sun chairs and a beautiful writing desk and stationary. The setup just makes you want to grab a Gin and Tonic and write a letter. Two family units are available, but the open room setup was most conducive for couples.
The lodge has a small but gorgeous infinity pool flanked by a bar, a viewing platform with fire pits for the evening, and three separate lounge living rooms with tastefully decorated light fixtures, couches, and African artifacts. The remoteness of the camp paired with its unique design and decorative elements made it a stylish oasis in the Delta.
Activities: Situated in the world's largest inland delta in a maze of lagoons and channels, all game viewing is done by boat. The traditional Mokoro dug-out canoe is still used by local inhabitants, and the lodge has replicated them to take guests on a sunset boating excursion through the lily pads where crocodiles, hippos, and many birds that nest in the reeds are found. Much like a Venetian gondolier, the guide used a wooden pole to maneuver the canoe and point out flora and fauna. This was a really unique experience I would highly recommend.
After boating to the permanent Nxaragha Island, we were able to do a walking safari one morning. This let us tromp through the bush (long pants advised!) and get up close to flowers and smaller species like the leopard tortoise which go unnoticed next to big game in the vehicles. While not the same thrill that a lion siting brings, the walking safari was a good experience to round out the activities offered and supplements the boating journey.
CHOBE GAME LODGE- Botswana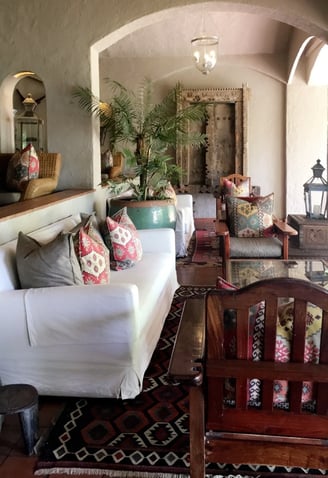 Resort: Chobe Game Lodge is a 5-Star property exclusively situated inside Chobe National Park. As the only accommodation within the park, its location is unbeatable for beating the lines to enter the park that most other lodges consequently encounter. Built in the 70's, it does have a slightly older feel to it, with some of the original wood furnishings kept throughout. Surrounded by expansive viewing decks and boardwalks, there are countless viewing locations and great spots for private, candlelit dining (a very cool experience for couples and honeymooners!)
With 44 guest rooms all featuring large terraces facing the Chobe River, the accommodations are spacious and feature a Moroccan decorative scheme with lanterns and bold textiles. For an even more luxurious experience, guests can stay in one of the suites which boast private infinity plunge pools as well as having hosted (one of) Elizabeth Taylor's honeymoons!

Activities: The lodge of course hosts game drives in Chobe Park which are a bit more restrictive because of the National Park's rules about staying in the vehicle and on set paths. Famous for its elephant population, Chobe National Park delivers on its game viewing. Also available are the boats to take water-based safaris on the river and get up-close to hippos, crocodiles, elephants, and some Namibian fishermen! This was another memorable sunset (with cocktails, obviously) and all guides are well-informed and FEMALE! That's right, Chobe Game Lodge has gotten a lot of deserved acclaim for having the first all-female guiding team! In case that wasn't cool enough, their vehicles and boats are all electric and solar powered!
A vast and diverse continent, Africa is so much more than a one-stop destination. My particular journey took me to two countries teeming with exotic wildlife, pristine ecosystems, and colorful local culture. To truly experience the facets of the African experience that capture your imagination, it's imperative to consult with someone familiar with the many offerings Africa can bestow to those who seek its magic. If you are ready for an adventure of a lifetime, click here to connect with me and start planning your journey! You can also email me at alefferts@dt.com.