As more baby boomers retire each year, millennials rise through the ranks of corporate America. By 2025, it's expected that as much as 75 percent of the US workforce will be composed of millennials, according to a report from the Brookings Institute. This generation of digital natives grew up alongside the evolving internet, so it's no surprise that millennials value different types of work environments and business cultures than previous generations.
According to entrepreneur and Inc.com contributor John Rampton, the differences between baby boomers and millennials in the workplace can be striking. While baby boomers tend to be driven by promotions and professional development, millennials are motivated by social feedback, skills training and mentorship. Millennials also tend to value employer loyalty less than their predecessors.
These cultural differences impact every aspect of the modern business world, including travel. To be forward thinking, all organizations should reassess their travel policies to better reflect millennial values and work habits.
The Rise of Bleisure Travel
When millennials travel for work, they expect to have time for leisure activities. In fact, many business travelers prefer to add a day or two of vacation time to their trips. According to a bleisure travel report from the Global Business Travel Association, employees who add leisure days to their business trips typically extend their stay by two or three days. The longer the trip, the more likely it is to include bleisure.
A business travel survey commissioned by Mezi found 84 percent of respondents claim to feel tired and burned out after a business trip. Adding on a vacation day to the end of a trip could improve employee moods. Bleisure travel can be a great incentive to build employee loyalty and reduce costly turnover. Though millennials tend to be less loyal to their employers than previous generations, perks such as extra travel days could provide an additional incentive to stay with the company.
The Sharing Economy
When millennials travel, they do things a little differently than boomers. Millennials will take a ride-share rather than rent a car. They are more likely than older generations to find an apartment to stay in via Airbnb rather than book a room at a hotel. Plus, millennials will book all of their travel online in the time it would take another employee to call a travel agent. In fact, Skift reported on an MMGY Global report which found that 81 percent of millennial business travelers prefer ride-sharing apps over taxis.
Overall, millennials tend to spend less when traveling. According to a SAP Concur report, millennials spend 18 percent less on dining and entertainment compared to previous generations, though hotel spend is 3 percent higher. Although millennials do things differently, there's good reason for their employers to trust their decisions.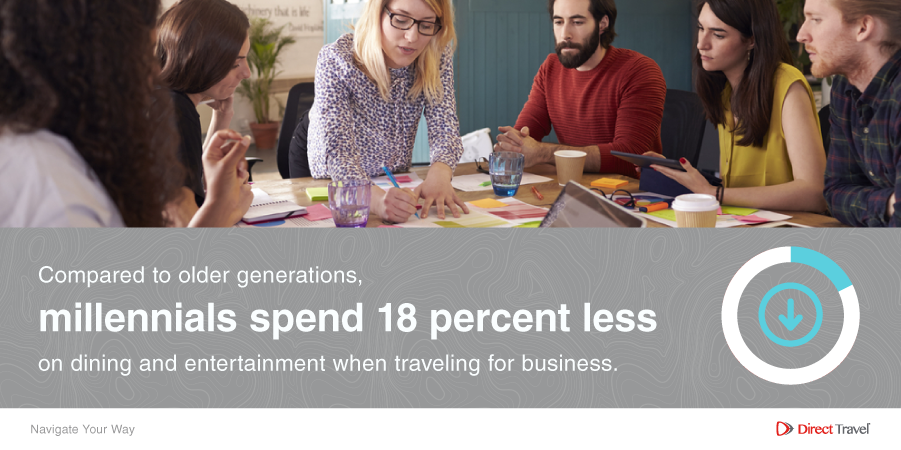 The New Travel Policy
Companies that staff millennial travelers can benefit from the above trends by developing a corporate policy that makes it easy for travelers to research and book from nontraditional travel suppliers. An updated corporate travel policy should include measures that take into account how millennial employees prefer to travel.
Policies that give employees greater flexibility in travel booking can benefit everyone, including the employer. By booking lodging and transportation through policy-approved sharing apps, travelers can potentially save the organization money. Of course, the employer should ensure transparency remains a key component of the policy. A travel management company can help with tracking policy compliance and developing reports will allow travel managers to understand exactly how their new policies impact budgets as well as employee satisfaction rates. For instance, a manager could track retention rates among employees who take bleisure trips compared to those who don't.
Organizations can bolster their policies by working with a TMC to invest in advanced travel technologies. Finding the right solution, however, can be a challenge in and of itself. Partnering with a TMC can reduce risk by ensuring that new technology investments align with the business's existing growth strategy.
To learn more about developing a millennial-friendly travel policy, download our whitepaper on the millennial shift in business travel.
The Millennial Shift in Business Travel