Today's travelers have access to information like never before, but it's not always the right information for the moment they're facing. As businesses have witnessed with the COVID-19 pandemic, ongoing restrictions and travel requirements can leave travelers in a lurch if they're not prepared to tackle these changes when returning to the road.
In order to avoid this and ensure your team can travel confidently again, you need to equip your employees with the proper technology and timely information. With this goal in mind, Direct Travel recently launched a new version of our Direct2U mobile app. Below, we walk you through the mobile features and enhancements that matter most to your travelers.
Real-Time Intelligence
The advantage of a mobile app is that it provides your travelers with all relevant trip information in one central location wherever and whenever they need to access it. However, like any technology, a mobile app is only as useful as the data it's sourcing.
When a traveler is using your mobile app to manage their trip, they should be able to see all restrictions and recent changes that will impact their travel. If your content is static, updated on an infrequent basis, or requires your travelers to manually sort through the information applicable to their trip, the app will provide inconsistent value for your business.
This is why Direct Travel has made headlines as the first TMC to make Sherpa intelligence an integral part of our mobile platform. Sherpa taps into more than 2,000 sources to guide travelers safely through the COVID-19 travel landscape, all pulled right into the Direct2U mobile app. This technology provides destination-specific information relative to country, state/province, county, and even city-by-city pandemic restrictions. By analyzing the traveler's passport, points of origin, and travel-through, Sherpa highlights the most current risk, rules, restrictions, testing, and quarantine requirements.
Communicate on the Road
Even with the best of intelligence, plans and restrictions can change at a moment's notice. Your mobile app needs to have the right features in place to communicate these changes to your travelers.
Trip briefs and travel alerts can be used to provide destination information prior to travel and notify travelers of any disruptions throughout their trip. With our Direct2U app, trip briefs provide insights into the on-the-ground conditions to be aware of, including cultural norms, crime, ongoing security reports, and adverse weather/environmental conditions. While trip briefs are slightly broader in scope, travel alerts can be more narrowing defined using triggers specific for your company. This allows you to quickly determine affected travelers and alert them as needed.
Additionally, Direct2U offers a reliable and easy way to contact your travelers with two-way communication. All messages are stored and accessible within the app, making it easy to keep track.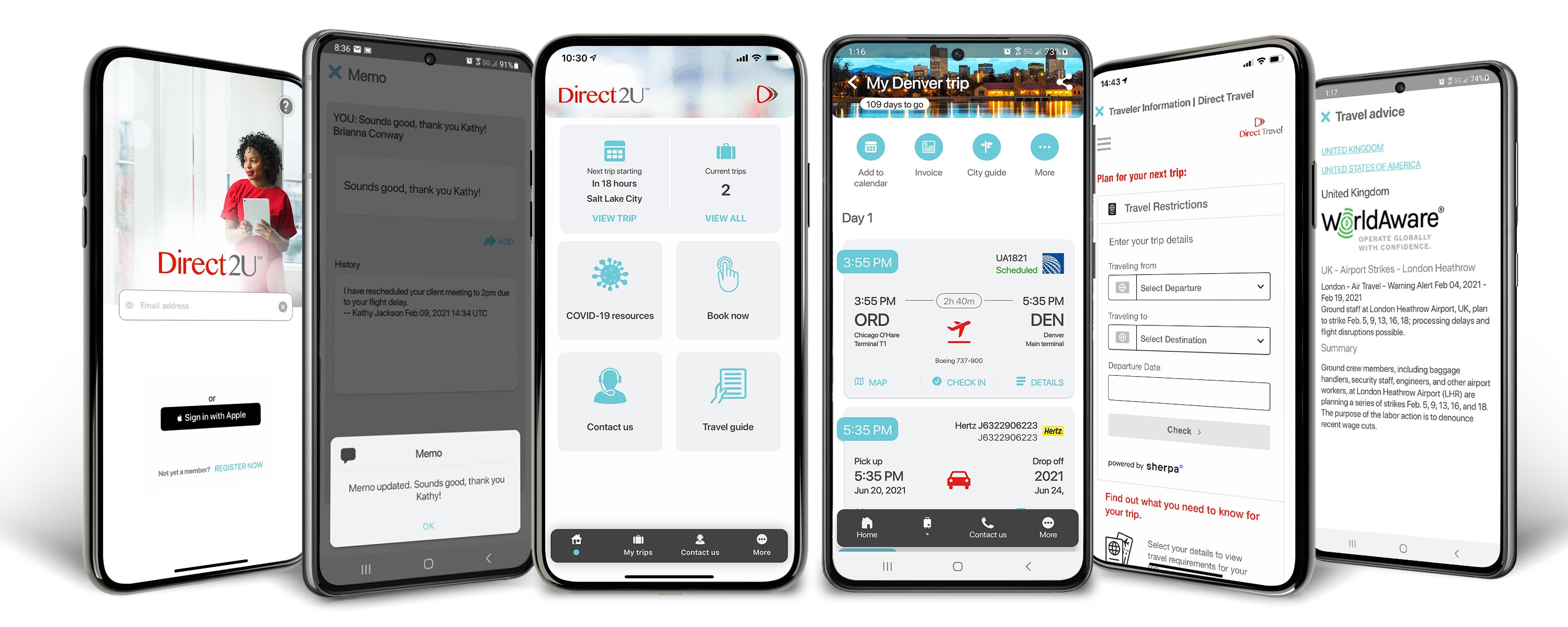 Streamlined Interface
In order to encourage widespread adoption of a mobile app by your travelers, it needs to have an intuitive interface with simple but powerful features. While it may be an app for business travel, travelers have come to expect the same level of design and functionality that they would of an app they use in their personal time for leisure activities.
For example, the latest version of Direct2U was redesigned to give it a sharper, more modernized appearance. This includes adding features like "dark mode," which makes the app more accessible in low-lighting situations and reduces the drain on the user's battery. It has also been equipped with easier options for sign-in, such as biometrics, which provides another layer of security.
Ultimately, a streamlined interface should increase the functionality of your traveler app. Elements like a trip notifications folder to store all relevant trip information and easy access to support pages and trouble-shooting tips provide value to users and encourage them to utilize the app on a regular basis.
Get Direct2U
In the new travel landscape created by COVID-19, your mobile app needs to go beyond tracking flight notifications and displaying itinerary details. Those elements are still important, but getting timely destination and safety information into the hands of your team members on the road should be first and foremost.
For Direct Travel clients, the latest upgrade to our mobile app provides the most robust iteration of this yet. Whether you've used previous versions of Direct2U or utilizing it for the first time, we encourage you to download Direct2U and share it with your travelers. Click the button below to access download options and schedule a demo to see the value Direct2U can bring to your travel program.
Get the Latest Direct2U Mobile App Info Here: