For international business travelers, a long period of stops and starts is finally ending as new momentum builds around reopened borders and loosened restrictions for vaccinated travelers. But what does it actually look like and—equally important—feel like to travel internationally again?
We got the chance to put this question to the test when Sam DeFranco, President of Direct Travel's East Region, accepted an invite from Delta and Air France to visit recently reopened France. As part of his journey, Sam documented his experience and shared insights along the way. Below we've recapped key highlights from the trip as well as takeaways for what to expect during your own travels abroad.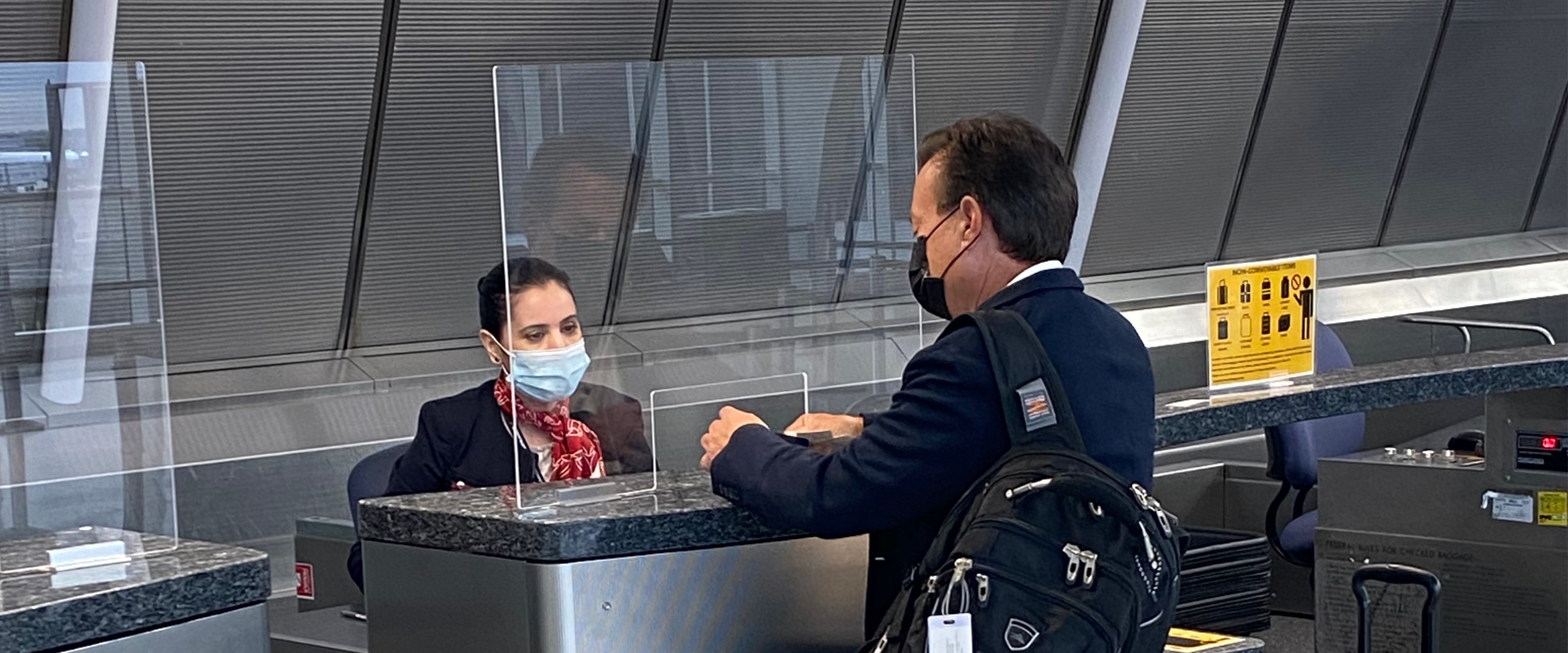 Know the Requirements
While many countries are welcoming back travelers again, requirements vary depending on where you are traveling to and where you are traveling from. Some countries do not require COVID testing for vaccinated travelers, while others require testing in addition to proof of vaccination. This is why we recommend using our Traveler Intelligence Hub powered by Sherpa to determine the restrictions in place that may impact your travel.
In Sam's case, he was required to show booth proof of vaccination and a negative COVID test at the Air France check-in counter. Similarly, at the end of his trip, he was required to take another COVID test before he could return to the U.S.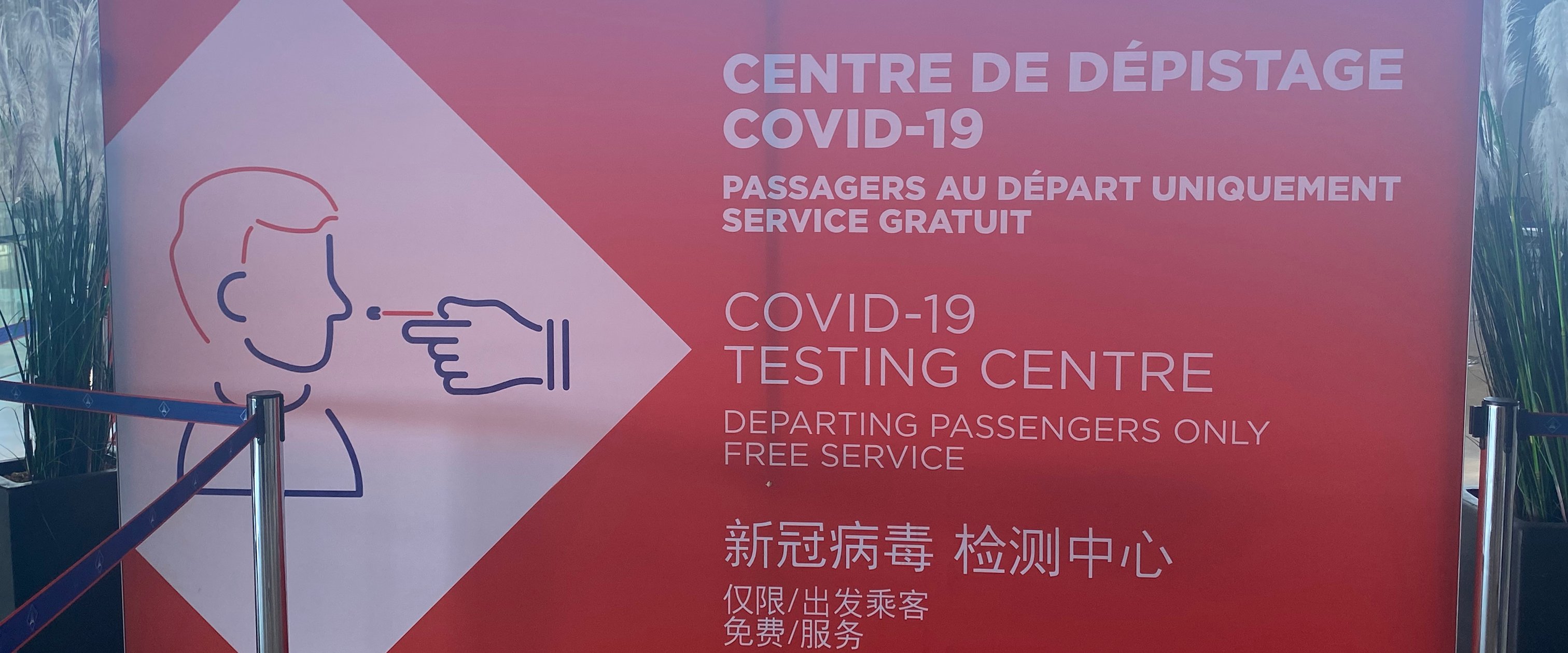 Your Mask Matters
By now, most travelers understand and expect that they will be required to wear a mask throughout the traveler journey. However, not all face coverings meet FAA and international airlines standards. Masks must be double layered, cover the nose and mouth, and cannot have side vents. This means face shields, bandanas, and neck gaiters do not qualify. When in doubt, check with your airline to verify their requirements.
On Sam's flight, he had to swap out his cloth mask for a disposable mask provided by the airline. Additionally, passengers were asked to discard and replace their masks every four hours for sanitation purposes. Passengers wore their masks for the entire duration of the flight, even between snacks and drinks.
"When boarding the flight in business class, this is the point at which I realized that traveling internationally is different than before," said Sam. "Air France was prepared though and supplied disposable masks to all passengers."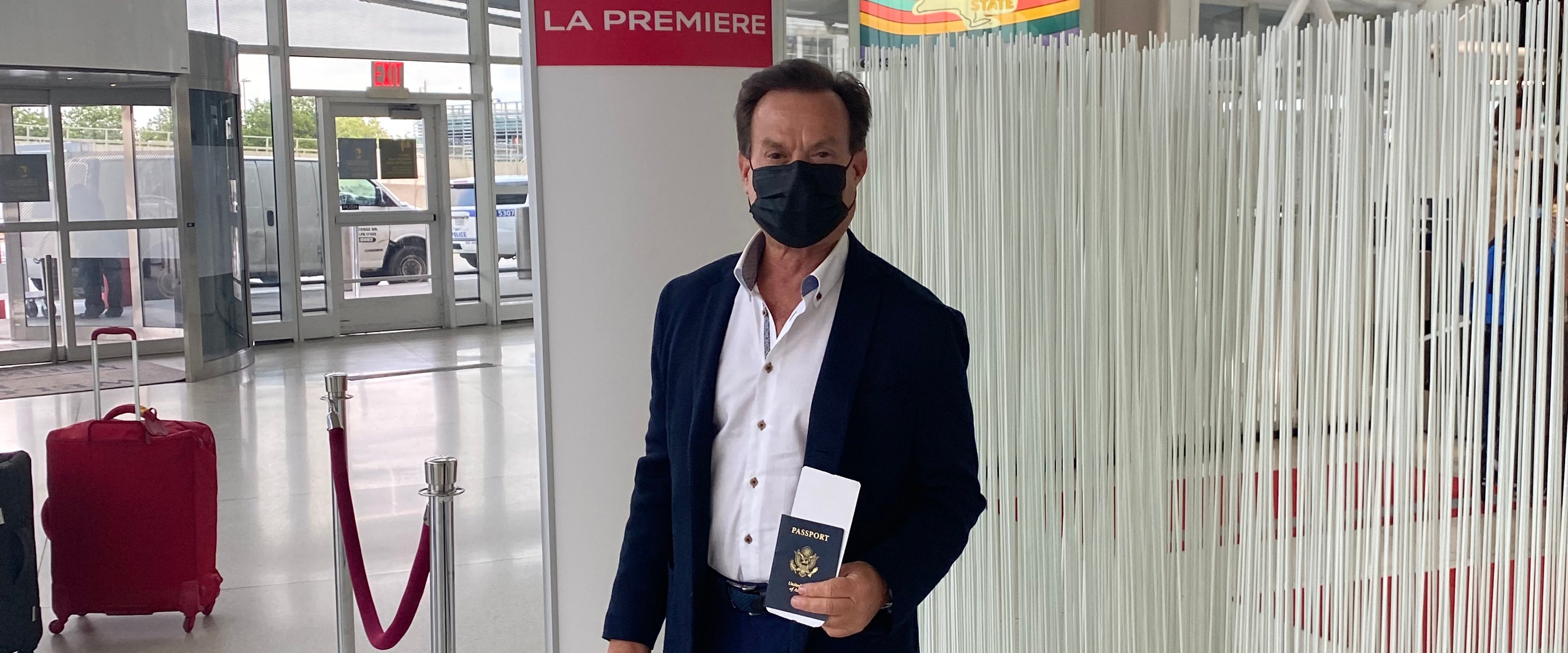 Welcoming Back Visitors
Traveling internationally has always carried with it the need to understand cultural sensitivities and to be flexible in case of differences of opinion or misunderstandings. As COVID-19 recedes at varying rates in countries around the world, this attitude is particularly important for vaccinated travelers to practice.
In Sam's case, any trepidations he may have had about traveling abroad for the first time since COVID-19 were quickly replaced with feelings of warm welcome when he interacted with locals and hotel staff. According to Sam, "At the Plaza Athénée, they couldn't have been more welcoming and ecstatic to see Americans finally visiting again. We checked into our magnificent suites and had a delicious welcome lunch before venturing off and exploring the magic of Paris."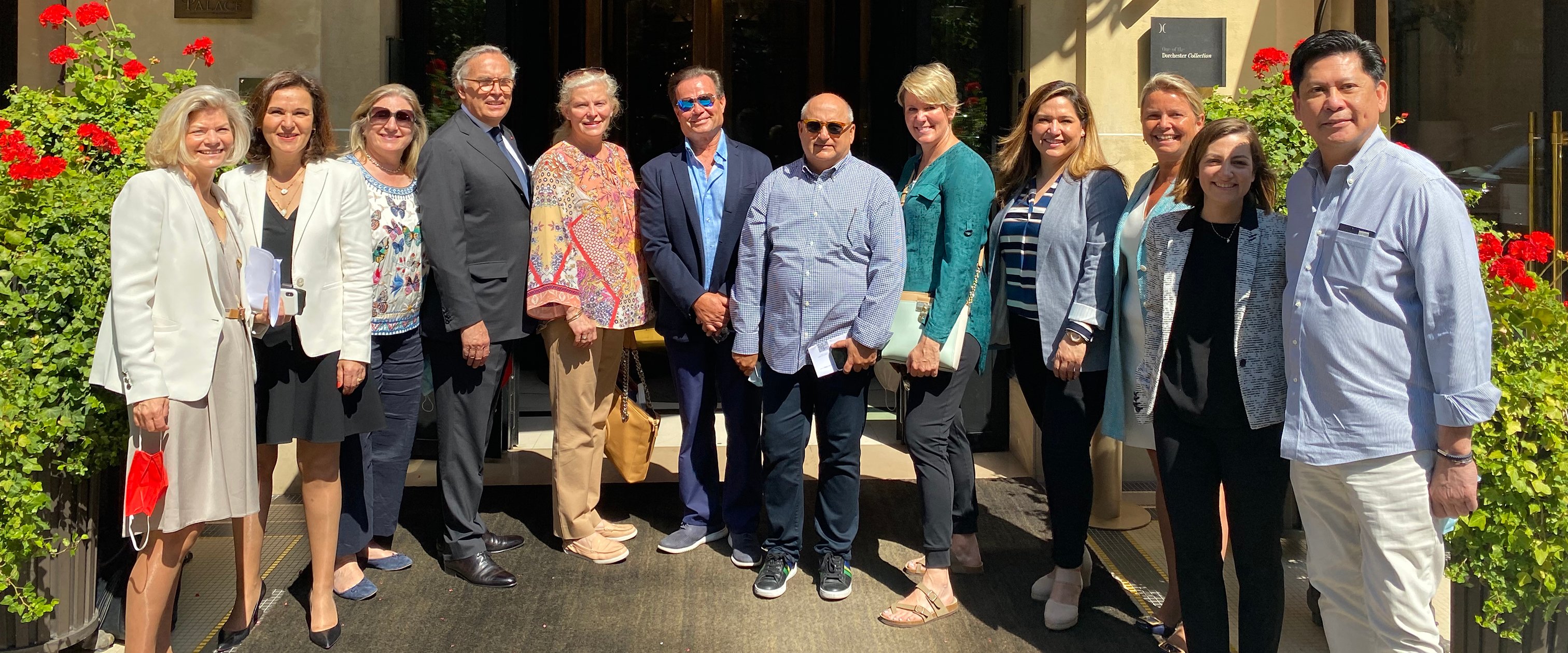 While reactions to returning travelers may differ depending on the destination you visit, the resumption of international travel represents an important win for hospitality and tourism—an industry that accounted for more than 10 percent of all jobs globally in 2019 and dropped by half in 2020 due to travel restrictions.
When Sam and the Delta/Air France group met with France's Secretary of State for Tourism, Jean-Baptiste Lemoyne, he explained how delighted he is to see Americans traveling back to France and is hopeful the U.S. administration will reciprocate.
Less Crowds, More Advance Planning
As a result of COVID-19, the days of being able to walk into a museum or attraction without a pre-purchased ticket or prior appointment may be numbered. Thanks to social distancing norms and limited staffing, many popular attractions will require you do your planning in advance. The good news? This model limits crowds and provides more space for visitors to enjoy the experience.
Sam took private tours of La Samaritaine, the Bourse du Commerce Pinault Collection, and the Louvre Museum, even getting close enough to pose for a snapshot with the latter's most famed woman of intrigue, Mona Lisa herself.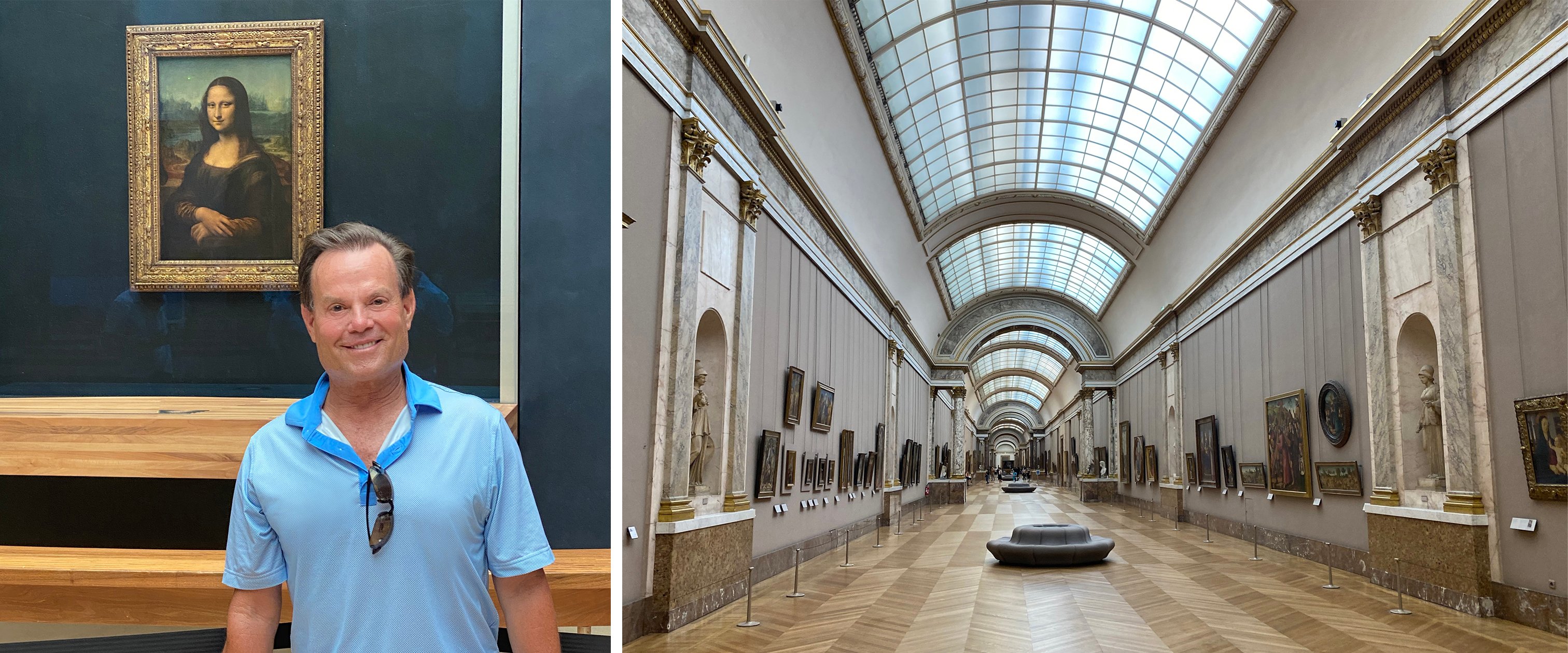 Other tours Sam took part in further confirmed that now is a great time to visit without the sheer number of tourists typical of summer season. For business travelers, this means it may be even easier to fit in an evening outing or add on a personal day of travel without the crowds.
"We cruised the River Seine with Les Yachts de Paris, and it was astonishing to see that we were the only boat on the entire river," Sam noted. "I have traveled to Paris countless times and I have never seen the river so vacant—truly a historical moment."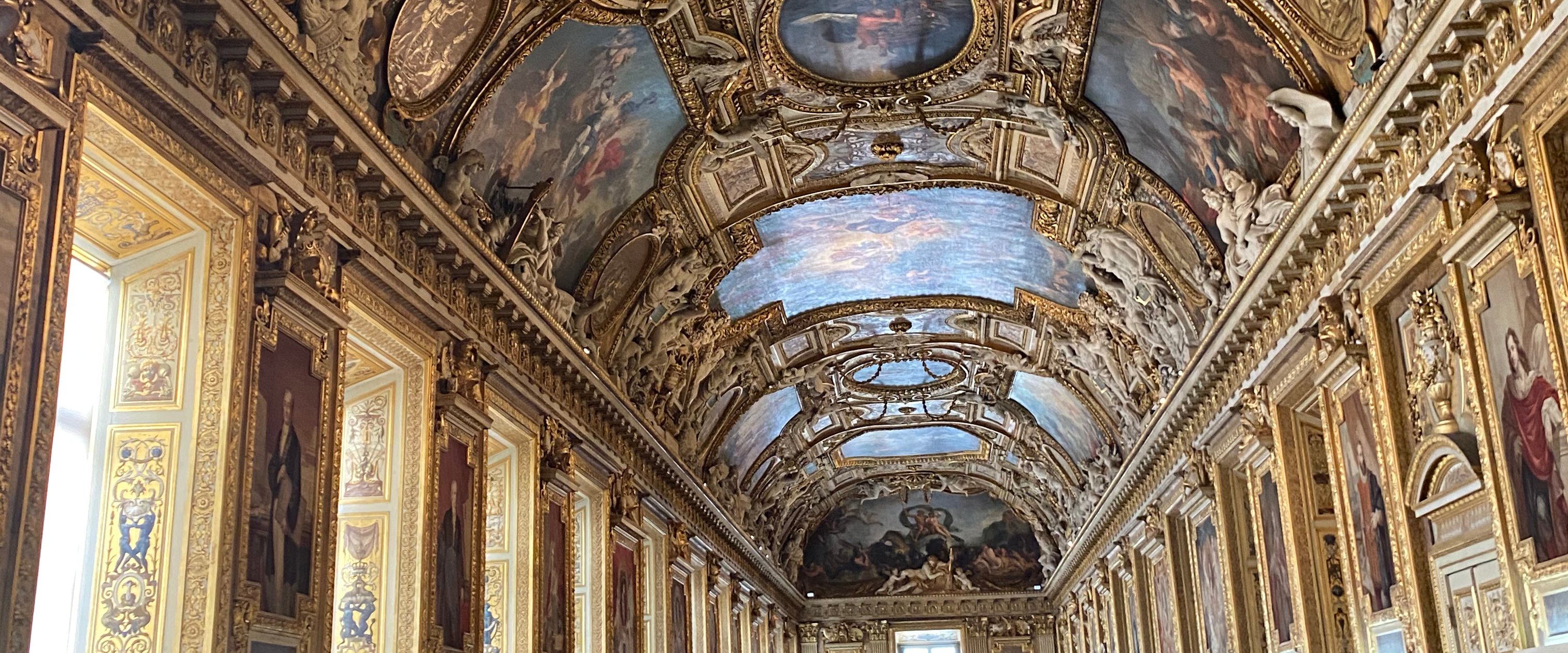 A Future-Focused Outlook
Even with all the advancements in technology that have been made to streamline travel and the conscious efforts of suppliers to improve traveler safety, there are still growing pains to overcome in the landscape ahead.
Sam pointed out that customs seemed inconsistent and confusing, with three different lines with separate requirements to navigate. Travelers returning to the road may also encounter flight cancellations, long TSA wait times, or changes to hotel services as the industry deals with a staffing shortage and faces challenges ramping back up.
We recommend keeping a positive mindset and remaining flexible as the industry sorts out this next stage of growth. Ultimately, the travel industry is rebuilding, and the future ahead looks promising.
As Sam put it so perfectly, "When we landed on American soil, I couldn't help but reflect on the last few days. This time last year, I didn't know what the world would look like in a year, but after this incredible experience traveling internationally, I can certainly say that 2021 is the year of brighter days—especially for the travel industry."