When a business sends its employees on trips, whether to a domestic location or somewhere abroad, traveler safety should always be the main focus. Senior-level leadership has an obligation to protect its employees and advocate for robust travel policies that emphasize safety and communication.
Currently, 72 percent of enterprises feel that risks to corporate travelers have increased in recent years, according to a recent Ipsos MORI study. What's more, 80 percent of companies have had to adjust their travel itineraries as a direct result of health or safety concerns in the past 12 months.
"A lot of businesses that are getting into travel risk are just touching the tip of the iceberg," said Stephen Barth, a law professor at the University of Houston and founder of Hospitality Lawyer, in an interview with Business Travel News. "You have to think about your entire ecosystem of travel risk management."
As an executive, what can you do to keep your travelers safe?
Research conditions ahead of time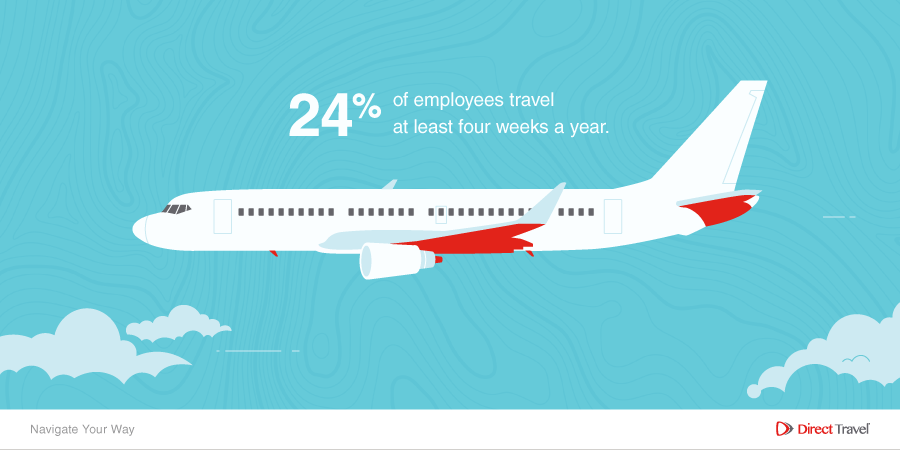 Overall, 24 percent of employees travel at least four weeks a year. To best prepare for an emergency, leaders must understand what travelers might face before they depart. This means supporting employees by way of their travel managers. Executives should build time into their travel manager's duties for extensive research about the current conditions of the locations where travelers are being sent. Additionally, leaders should designate a specific set of criteria travel managers must report on and a pipeline for reporting. In this way, employees and executives can prepare and respond to distinct risks.
If executives cannot find the resources to plan ahead adequately, they should seek out a travel management company that can generate data-packed travel briefs for them.
Make emergency management a top priority
Taking corporate trips can be stressful for employees as well as for the family and loved ones they leave behind. As rewarding as a business trip can be for a company, travel does expose professionals on the road to risks outside those they would experience during an average day at the office.
One of the best ways to quell these concerns is by making traveler safety a top priority across the organization and throughout the C-suite. But what does that entail exactly? At least the following:

Establishing a 24-hour point of contact, preferably through a partnership with a travel management company.

Assigning an internal team to facilitate assistance should an emergency arise while an employee is traveling.

Discussing travel risks and response strategies with any and all staff that travel.
Weaving the importance of travel safety into the culture of the business can help reduce the burden employees feel while journeying for the business. It also ensures that every stakeholder understands their responsibilities in the event of an emergency.
Design reliable and actionable lines of communication
It's important that travelers don't just set off on their trips and leave their managers and co-workers blind to their activities. When planning a corporate trip, executives and stakeholders should have a copy of the employee's itinerary as well as methods for locating and communicating with travelers while they're on the road, be it a digital portal or similar medium.
Corporate travel policies should include rules about notifying managers if travel plans change. That way, executives and managers always know where their employees are and can reach out to them should complications or emergency situations arise.
During an emergency situation, communication is absolutely critical. Executives must make sure that travel managers have the tools they need to consistently locate traveling employees and connect with them in order to guide them to safety. To best support travelers, executives should seek out an advanced travel risk management solution that can perform the following:
Maintain visibility into itinerary and travel plans.

Support alerts and notifications to ensure stakeholders always understand current conditions.
Enable communication with travelers to facilitate next steps in the event of an emergency.
Allow for coordination of medical and evacuation efforts, should these be necessary.
Find out more about improving your organization's travel risk management efforts by contacting the experts at Direct Travel today.