As the pace of vaccinations accelerate and destinations reopen, more and more businesses are returning to travel. Your organization may be ready to resume travel to reach key clients and markets, but do your road warriors have the information they need in order to stay safe and informed?
From COVID-19 testing to packing essentials, the way we once traveled has changed. However, the most important thing your travelers need is expert guidance and access to real-time intelligence.
To address this need, Direct Travel has created an interactive guide to The New Traveler Journey, which you can download and share with your team. Here are the top takeaways to expect from the New Traveler Journey.
Prioritizing Real-Time Intelligence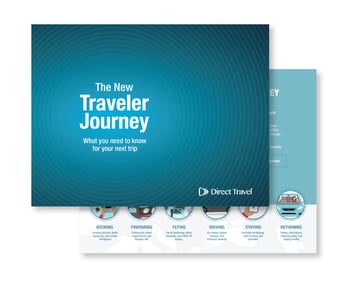 With travel restrictions changing frequently and varying significantly from region to region, having access to up-to-date information is crucial for travelers. This is relevant at all stages of the journey, beginning with the booking process and continuing through to the return flight home.
The New Traveler Journey provides travelers with the tips and tools they'll need for accessing information, including:
Sherpa traveler intelligence on desktop and mobile
Enhanced trip itineraries
Increased Safety and Sanitation Standards
At the onset of the pandemic, travel suppliers garnered headlines for the investments they made in creating clean and comfortable spaces for travelers. While health standards and PPE requirements have since changed in some settings in accordance with CDC guidelines, suppliers have continued to invest in improved safety standards and sanitation tools that prioritize traveler safety.
We take an in depth look at the extent of these changes in the guide such as:
Modified Services and Amenities
While safety measures and cleanliness have improved as a result of COVID-19 restrictions, other elements of the traveler experience still present challenges to adjust to. Many suppliers are still ramping back up staffing, and some parts of the traveler journey require more advance planning.
Some of the tips we provide in the New Traveler Journey for addressing these changes to amenities and services include:
Planning for your hotel experience
Evaluating when to use a car service or ride share
What to expect on the airplane
Download the Guide
Ensuring your road warriors feel confident traveling again is the most important step in resuming your travel program and fueling business growth. Our guide to the New Traveler Journey can help you do just that.
Download this free, interactive resource to take your travelers from start to finish as they prepare for their next trip.