It's been proven that companies who focus on their travelers' comfort and safety benefit by seeing higher levels of employee satisfaction and retention. However, many corporate travel policies still don't address what business travelers consider to be the single most indispensable item while on the road: their smartphone. Specifically, apps.
The mobile channel should be treated just as your online and offline channels are treated: You have a preferred online booking tool, a preferred travel management company, and you should have preferred apps as well. Left to their own devices (pun intended), travelers will download whatever they find at the top of the app store rankings. While many of those apps are probably harmless, some of them can lead to increased non-compliance and overall detachment from the company's travel program.
By addressing mobile devices and app usage in your policy, you can help guide travelers to compliant mobile solutions that will keep them happy and productive. Here are some of the top things to consider!
Booking on the fly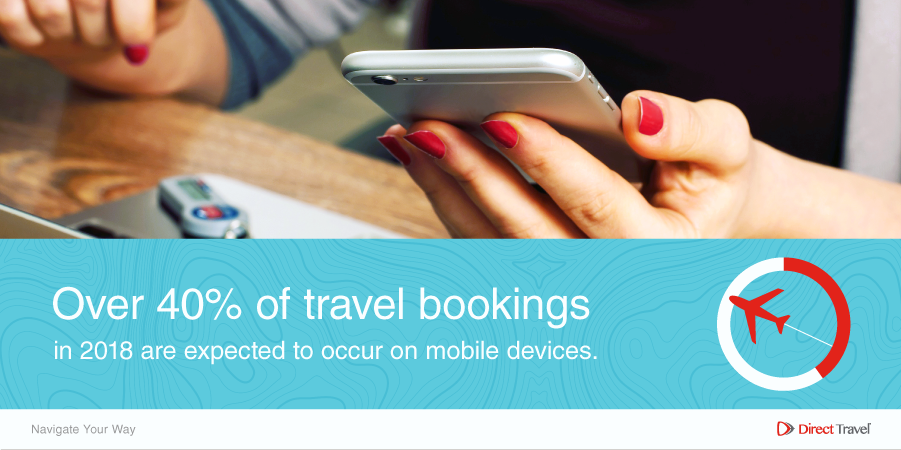 More than 40% of travel bookings in 2018 are expected to occur on mobile devices. With an approved mobile booking app, travelers can manage their air, car and hotel reservations on the go, all within policy. For more complicated bookings or changes, make sure your approved app also includes an easy way to contact your travel agents.
Making sure that mobile bookings are a part of your app strategy can help you improve program compliance and achieve the balance between traveler satisfaction and cost savings.
Robust itinerary management
Booking is just one piece of the travel puzzle. Hitting the road is a whole different beast. Travelers need to know which airport they're headed to, how long security will take, which gate they're at, how they'll get from the airport to their meeting or hotel, etc. When corporate travelers have to spend extra time managing their itineraries, it leaves them with less time to focus on the work at hand.
Itinerary management apps are a must-have for any mobile strategy. Direct Travel's itinerary management app Direct2U will automatically sync every piece of a traveler's itinerary, making it easy to remember where they are going, how they're getting there, along with real-time flight alerts to keep them informed along the way. Travelers can also look back and export any necessary information to make their expense management experience smoother.
By freeing up some mental space, travelers can stay at peak productivity, no matter what obstacles appear.
Duty of Care
Mobile solutions should also help support your duty of care initiatives. Not only from an informational standpoint—such as communicating visa and passport requirements, country-specific health and safety advice, etc.—but from a crisis management perspective as well.
A recent GBTA Foundation report found that three in five travel managers rely on travelers to contact them during times of crisis and uncertainty, while 58% of travelers said they would contact their supervisor—not the travel manager—for support or assistance in such a situation. To help close this gap, ensure your approved app makes it crystal clear who to contact and how to contact them in the event of an emergency. Having a "safety check-in" button, a click-to-call button to your risk management provider, or 2-way a communication capability can make all the difference when an incident occurs.
Work with your travel management company to create a risk management plan that includes the use of mobile apps or mobile messaging so you have a lifeline to travelers (and vice versa!) while they're out on the road.
Local research
Staying productive upon arrival in a new location is a challenge if travelers don't know where to get a healthy meal, find a dry cleaner or locate a print center. Small tasks can add up, wasting precious time. Luckily there are apps out there that can help travelers locate the resources they need quickly. Even a common app like Google Maps can assist corporate travelers in an unfamiliar city. Likewise, review apps can help them pick the perfect location for a client lunch. The name of the game is convenience and efficiency. With speedy access to local knowledge, travelers can be prepared for anything that comes their way.
Worried about those types of apps leading to more spending of the company dime? Having an enterprise-approved expense management app that contains your expense policy and makes proper receipt recording easy will ensure continued compliance to the company's policy while on the road.
Recommended Criteria
We're all familiar with app fatigue! In fact, there are over 65,000 travel-related apps across the various mobile platforms. Making app recommendations to your travelers helps cut through the chaos so they can find the most helpful (and compliant!) apps with ease.
Make sure your app recommendations account for all major elements of the travel experience: booking, policy, itinerary management, duty of care, navigation, local search, etc. If your company provides mobile devices to employees, work with IT to ensure all of your recommended apps will be available for download to the company devices. Once you've got your recommended app list compiled, consider posting it prominently on your travel portal for quick reference.
We live in a mobile world, and corporate travelers need robust mobile resources to support their mission and goals. To learn more about leveraging smart mobile solutions in your travel program, contact our expert consultants today.