Associations and membership organizations have unique travel needs, including the coordination of member and non-member trips, guest speaker accommodations and more. We sat down with Mike MacNair, Senior Vice President of Mid Atlantic Region, who specializes in helping associations and membership organizations create efficient travel programs, and identified 10 areas of consideration.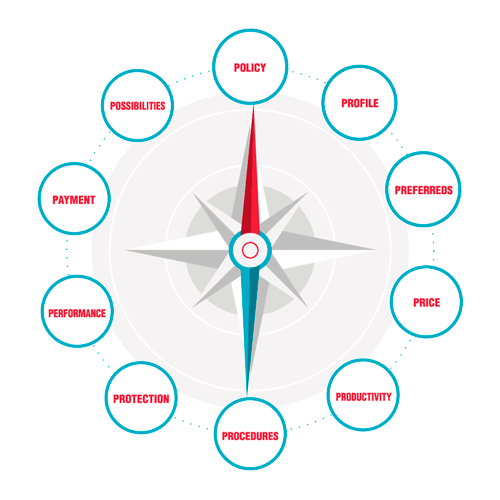 1. Policy
The travel policy is the key to keeping a travel program consistent, efficient and effective. Setting a clear policy and enforcing it are two vital steps toward reducing travel costs, improving duty of care and maintaining traveler satisfaction. Stakeholders should identify different types of travelers and establish travel policy rule classes that are programmed into online and call-in systems. These classes may include executives, administrators, board members and speakers, among others.
Building a policy with a travel management company is one of the best ways to develop a successful program. A dedicated TMC partner can not only identify areas of improvement, but also leverage its existing relationships to secure additional savings.
2. Profile
A typical association has many types of travelers, including staff and non-staff individuals with unique needs. By establishing documented traveler profiles containing custom preferences, travel managers can ensure better traveler satisfaction.
A thorough profile should include personal and professional operational data about the traveler. Within the context of a managed travel policy, profiles give stakeholders the ability to deliver tailored support to every traveler. These profiles should be built for frequent and infrequent travelers and can be used to manage access to online and call booking systems.
3. Preferreds
Travel is a business of relationships. Alone, an association may struggle to effectively leverage its relationships with travel suppliers to secure significant discounts. One way to increase the number of opportunities for cost savings is to establish preferred suppliers for air, ground and hotel needs. Likewise, a TMC can utilize large-scale travel volumes in key regions to earn additional discounts. A TMC can also help to manage your corporate rewards programs and negotiate meeting discounts with airlines.
Stakeholders should encourage staff and non-staff travelers to utilize preferred vendors as much as possible to secure the most leverage. Many associations use corporate rewards programs made for small businesses. Some organizations may be able to utilize meeting volume to secure transient hotel contracts.
4. Price
At the end of the day, price is one of the most important issues a travel program must consider. Finding a balance between quality service and affordable prices can be a challenge - but that is easily addressed through a TMC partnership and a well-written policy. Establishing best practices and price thresholds for airfare, hotel rates, vehicle rental rates and entertainment budgets is essential.
Travel managers should understand that airline sites and third-party booking companies are biased toward direct travelers and bookings favorable to the supplier, not policy requirements. Therefore, stakeholders should define price expectations for each policy rule class and encourage travelers to only book through approved channels.
5. Productivity
When association members and guests travel, time is limited and productivity is important. Mapping the travel and expense can help organizations identify productivity-enhancing tools and best practices. For example, utilizing hotel suppliers with close proximity to an event location could help travelers stay productive, compared with travelers who need to commute a longer distance from the event.
An automated travel and expense workflow enhances the productivity of travelers, schedulers and the financial team. Likewise, mobile tools and quality support during travel changes make travelers more productive on the road.
6. Procedures
Typically, travel management procedures fall within four categories: accounting, authorizations, compliance and reservations. If there is any piece of the travel program that does not fall within the scope of an established procedure, risk increases. Creating and adhering to defined processes will provide stakeholders with predictable outcomes and more opportunities to reduce potential liabilities.
7. Protection
Duty of care is one of the most important considerations of an association's travel program. With many people moving between events, lodgings and remote points of origin, there's a lot of room for mistakes and accidents. Likewise, weather events and man-made disturbances can introduce unexpected complications.
No traveler should be left alone to fend for him or herself. A TMC can identify technologies and best practices to improve duty of care and increase transparency regarding traveler whereabouts and condition. A TMC can be proactive with mobile tools and support to help with change management. Likewise, online portals can allow for better management of duty of care support, such as the ability to track where people are at all times.
8. Performance
Travel programs must evolve with changing market conditions, technology advancements and expanding organizational goals. To grow in a strategic manner, travel program stakeholders require measurable key performance indicators that provide actionable insights.
A TMC can ensure that all travel spend moves through approved channels and is captured accordingly. This data can be leveraged to improve the travel program continuously over time. Defining and tracking key performance indicators such as program adoption, average ticket price and preferred use can make it possible to continuously improve the program over time. For instance, Direct Travel offers clients a business intelligence tool that not only helps to track key performance indicators through dynamic dashboards, but also has features that allow travel managers to tell the story of the travel program through metrics that matter.
9. Payment
Not only should a managed travel program seek to identify savings opportunities, but also beneficial tools for processing payments. A TMC can evaluate how the organization pays for travel, leading to significant improvements. For instance, utilizing virtual card payments could reduce the risk of bookings made outside of approved channels.
10. Possibilities
Association travel needs are rarely static. Throughout the year, stakeholders attend all kinds of meetings and conferences, which makes it important to build an adaptive program. Likewise, travel considerations will expand and grow as the association gains members and recognition. As the group attracts high profile guest speakers and shifts event locations, there will always be the need for program adjustments.
Having a partner to move through these changes with your organization will keep progress smooth and predictable. For instance, integrating online tools for meeting and travel management can reveal new opportunities for cost savings.
Plan Ahead
These 10 areas are just examples of the many ways a TMC can enhance an association's travel program. Depending on the unique needs of your organization, there are many more options for creating additional efficiencies and opportunities for cost savings.
For more tips on improving your travel program, speak with an expert from Direct Travel today.