After months of speculating if and when travel will return to pre-pandemic levels, the latest stats from TSA show a surging trend of travelers ready and eager to return to the road.
Thanks in part to borders reopening and travel restrictions beginning to loosen, the outlook for travel has brightened considerably—so much so that the prospect of hitting 2019 numbers is now in sight. To help you get a clear picture of the rebound in progress, we've compiled the top stats here, which you can also share with your team.
Year-Over-Year Growth
When COVID-19 first hit in 2020, the rapid and steep decline it caused in the travel sphere led many to wonder how the industry would pare back the losses. However, while the past year had its challenges, the latest numbers from TSA show the industry steadily regaining much of the ground it lost.
Looking at the graph of TSA traveler data below, the climbing numbers of 2021 rival the precipitous drop-off of the year prior and are even on track to surpass the records of 2019.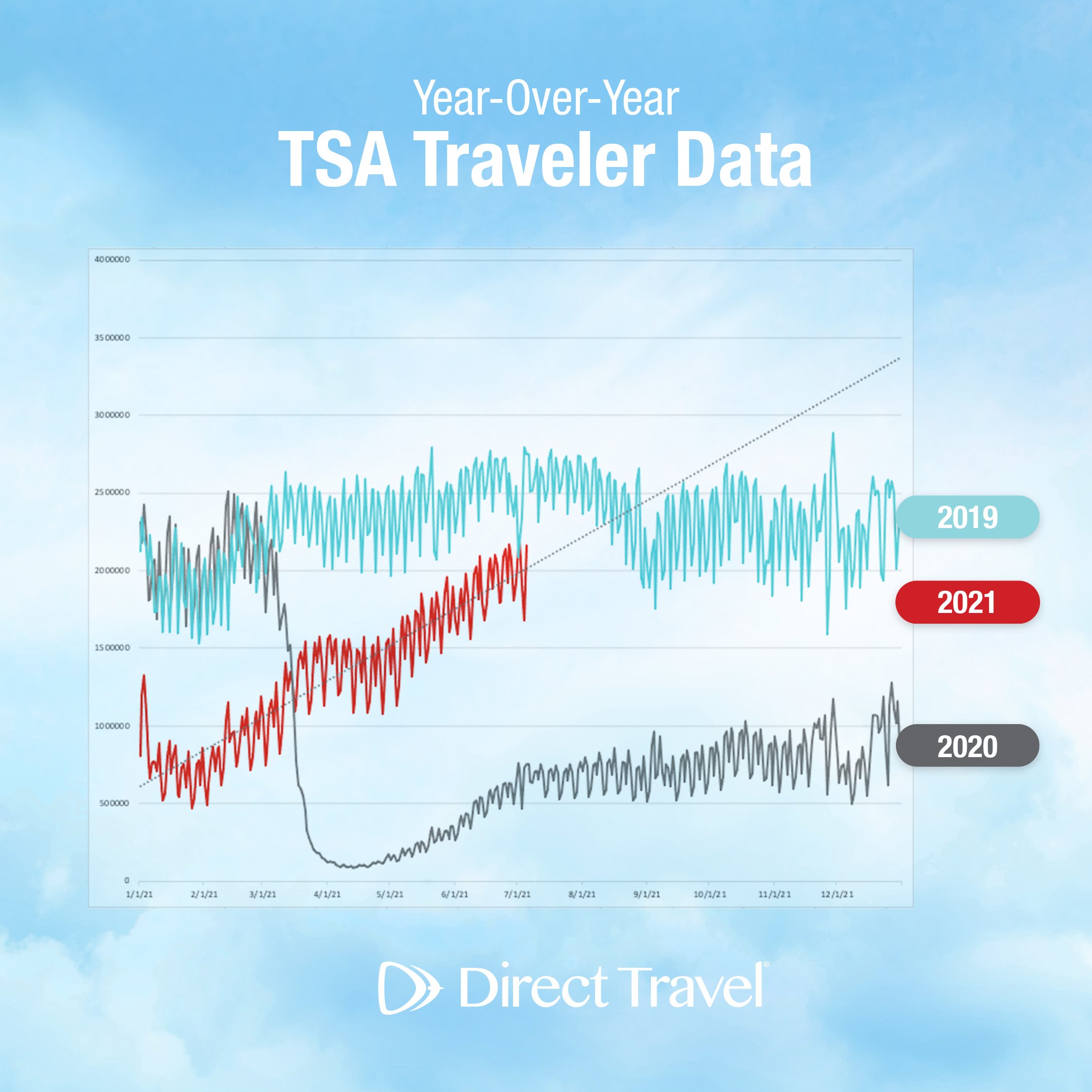 Matching 2019 Levels
Most notable among the TSA data points is the latest surge in 2021 travelers concentrated over the July 4th holiday weekend. Not only did this weekend see more than double the number of travelers than the year prior, but it actually surpassed 2019 numbers on July 1st and 2nd. In total, more than 10 million people were screened between July 1st and July 5th, a 200 percent increase over 2020 and a new post-pandemic record.
Also noteworthy is the overall trajectory of the curve, which points to a continued trend of growing travel. If the trajectory holds, travel will exceed pre-pandemic levels by September of this year. Until then, it will likely ebb back and forth between trailing and matching 2019 numbers.
What's Next?
New developments continue to bode well for both boosting traveler confidence and increasing travel growth as the industry recovers. Canada recently announced a further easing of restrictions at the border for vaccinated citizens, with detailed plans for a full reopening to come in the weeks ahead. Similarly, the U.K. has indicated it will allow fully vaccinated individuals to skip the mandatory traveler quarantine.
Corporate travel has taken longer to recover than leisure travel, but as workers return to the office, businesses can expect travel to follow. This is reflected in a recent GBTA survey that shows that more than one-third of companies have already resumed travel and 77 percent of employees are willing to consider traveling for work again.
With these stats and latest numbers from TSA, it's clear that travel is back in a big way. To help prepare yourself and your travelers for getting back on the road in this changing environment, we recommend downloading our Guide to the New Traveler Journey.