If 2020 was the year that challenged all previously held notions about business travel, 2021 has been a year of putting those changes to the test. The market has shifted and adapted beyond the temporary patchwork of solutions created at the onset of the pandemic, replaced by new practices and expectations that will last well into the future.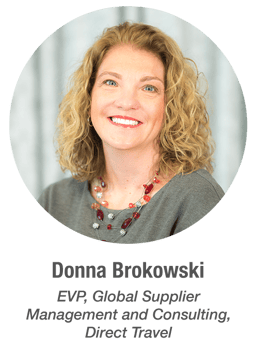 While many companies have updated their policies and procedures to match, the majority of travelers still have limited experience in this new travel environment. Before your team returns to travel, we recommend setting expectations around the latest changes from travel suppliers. To help guide you through this process, we sat down for a Q&A with Direct Travel's Executive Vice President of Global Supplier Management and Consulting, Donna Brokowski.
Let's start by talking about the current state of the road warrior, experienced travelers who typically log dozens of business trips a year.
With offices returning to in-person models and international borders reopening, where is
today's road warrior at now?
Some of them never left—depending on the industry and job function—but many are still at home, conducting meetings virtually and spending time with family. Travel has remained part of the equation for some, but largely traveling for vacation, spending those miles and points racked up from the past. Those who are returning to the road are finding a different travel experience than when they left. Before, they could map out an A-to-Z list of travel expectations, but most of the rules and procedures have since changed.
What changes are posing the biggest obstacles for road warrior to get through?
Booking in advance is huge. We're talking about travelers who were used to booking accommodations for a trip two weeks out, no questions asked. If they do that in today's market, they're going to find themselves struggling with rate caps and faced with a lengthy and highly scrutinized process of booking outside of policy. For example, a weeknight hotel rate that once ran $200 may hit upwards of $500 in certain markets, which is one of the reasons we recommend companies implement a rate assurance tool to take advantage of market volatility.
Breaking it down by sections of the traveler journey, how has air been impacted?
Pre-pandemic, many road warriors relied on morning-evening shuttle flights that no longer exist at the same volume or frequency. Instead, travelers will find they have to fly in the night before, resulting in added time and expense. As far as the experience itself, in-flight service has picked back up but food and drink options at most airports remain limited. You may find the TSA line long too, which is a good reminder to make sure your TSA PreCheck hasn't expired.
What about on the way to or from the airport—what should road warriors expect with rentals and car services?
Another case where booking in advance matters—gone are the days of walk-up rentals, regardless of whether you have an elevated rewards status or not. The current car shortage has effected everyone, and travelers should expect less inventory, less selection, and higher rates. There are some companies that have found creative ways to handle the shortage, but generally expect the cars to be models from previous years with higher mileage. This goes for car services and ride sharing as well.
Once travelers arrive at their destination, what kind of experience will they find waiting for them at their hotel?
That's a tough questions because it varies depending on brand and tier. For instance, at many budget and mid-range properties, housekeeping has shifted from a daily occurrence unless specifically requested by the guest, which could cost extra. Luxury properties have largely avoided this approach, preferring not to diminish their value proposition, although services such as spa, on-site dining, and fitness centers may still have limited staffing and hours. What can be expected across brands and properties though is a greater emphasis on wellness and clean initiatives, such as Hilton CleanStay or Hyatt's Global Care & Cleanliness Commitment.
How do mobile apps and touchless technology play a role in this new hotel experience?
Before, a mobile app may have been something you downloaded once you got to your hotel—perhaps there was a card on the desk reminding you to download it or maybe you used it manage the WiFi. Now, it's essential to download it before you travel. Want to use keyless entry and mobile check-in? Get the app. Planning on exercising at the fitness center? Better have the mobile app to book your reservation in advance. Interested in late night dinner upon arrival? Try checking the restaurant hours on the app first. If your hotel offers a mobile platform, it's critical that you download it to access essential functions for improving your stay.
We've talked about the specific parts of the traveler journey, but what about the overall experience and previous service levels road warriors have come to expect?
Road warriors should travel with this mindset: Whenever you travel, wherever you go, don't forget to pack your patience. The industry has experienced record turnover and staffing shortages, which has resulted in new trainees with a huge learning curve. Plus, the staff that didn't leave have been working nearly non-stop throughout the pandemic—they may be a little burnt out, to put it mildly. Be patient and recognize that most are doing the best they can.
How about COVID-19 testing? There has been a huge emphasis on rapid turn-around times to meet new international travel restrictions, but there's no uniform place for testing information.
Correct. It's a new world, and we all need to learn how to maneuver through it. You can't expect to walk up to the airport check-in counter or a hotel front desk and receive comprehensive testing guidance, let alone access a rapid test then and there. Some hotels like IHG have partnered with testing providers for larger meetings and events, but there are limitations. On an international level, road warriors needs to learn the difference between the types of of available and acceptable COVID-19 tests in order to travel successfully. A good starting place is our Traveler Intelligence page, which links to testing sites in the U.S. and Canada. Again, this is where advance planning is key.
One more question: What's your go-to tip for road warriors, something simple they might not think to plan for on their own?
I'll give two, starting with the most practical and easy tip: Bring snacks. You'd be surprised at how many restaurants are not yet operating, and the ones that are open may have limited hours. If you arrive late and everything is closed, you'll wish you'd brought something with you.
My other tip for road warriors is be prepared to prove trip value and show ROI. As expenses go up, trips are increasingly being scrutinized for the value they contribute to the company's bottom line. Come prepared to show why your trip matters and what you can deliver for the business.