Today's travel managers face a near constant level of change and uncertainty. From emerging COVID-19 variants and evolving travel restrictions to supply chain issues and staffing shortages, the challenges created by the pandemic can disrupt and derail corporate travel programs if not addressed with a concerted and strategic approach.
Now, with 2022 in full swing despite the temporary limitations posed by the pervasive omicron variant, how are top travel managers handling the ongoing change and preparing their travelers to do the same? This question will be the object of discussion tackled by a panel of experienced travel professionals as part of BTN's latest Thought Leadership webinar, Owning What You Can Control in Today's Fluid Travel Environment. Sponsored by Direct Travel, the webinar will take place Thursday, February 10th at 1 p.m. EST. Here's a preview of what to expect and your link to register.
Own It, Control It
While it's easy to focus on the negative aspects of the past two years, the lessons learned have provided companies with useful insights and applicable tactics for mitigating risk and uncertainty. Travel managers see clearer now than ever the important role a well managed travel program plays in helping keep employees on the road safe and informed.
Rather than focusing on the aspects businesses cannot control, top travel managers can identify areas of opportunity and shift from a reactive mode to an approach that prioritizes taking ownership of the factors they can control. From negotiations with suppliers and communications with travelers to putting the right technologies in place and retraining road warriors, travel managers have more tools at their disposal now for shaping the future of their travel programs.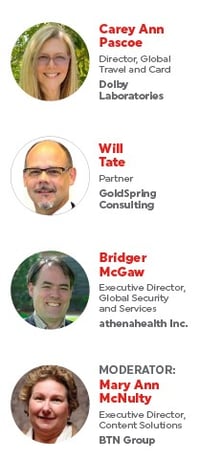 Expert Insights
To understand exactly what this looks like for businesses of varying sizes, the BTN webinar will tap into the experiences of Carey Ann Pascoe, Director of Global Travel & Card for Dolby Laboratories; Bridger McGaw, Executive Director of Global Security & Services for Athenahealth; and Will Tate, partner at GoldSpring Consulting; with Mary Ann McNulty from BTN serving as moderator.
Areas of focus throughout the 60-minute conversation will highlight how to identify the components of your travel program that you can best own and control, including:
Keeping your travelers apprised of the latest changes to travel

Technologies and tools to keep your travel program on track

Prioritizing the safety and security of employees on the road

Tips for negotiating with suppliers in the new environment
Register for Free
Is your travel program on track for the period of recovery ahead? If the flurry of travel last summer is any indicator, 2022 could be a banner year of growth for the industry. Get the insights you need for your program and position your business ahead of the curve when it comes to the latest changes to travel.
Thursday, Feb. 10
th
@ 1 p.m. EST