Another year, another Global Business Travel Association (GBTA) Convention with an amazing lineup of speakers and educational sessions! This GBTA, our team is asking the question: Why Wait? After all, there's no time like the present to get better service and smarter solutions for your travel program.
GBTA presents the opportunity to learn about the latest travel tools and best practices for driving business growth. Like most tradeshows and events post-pandemic, GBTA is back in a big way, and convention-goers share a renewed sense of energy and excitement. In fact, a recent Q1 report showed that B2B events are headed for a full return by 2024 as attendance has recovered by 75%.
While the return of big tradeshows is a cause for celebration, it can also pose a challenge to sift through the sheer volume of information and networking opportunities that events like GBTA offer. To help get you started, here are our recommendations for making the most out of your GBTA 2023 experience in Dallas.
Get Conference Connected
With large-scale events, it's important to stay connected and keep tabs on scheduled times, locations, and activities. Many sessions and activities may be appearing concurrently in separate areas of the convention center, which necessitates advance planning to determine your priorities and availability.
To get conference connected, consider the following:
Download the GBTA App via the Apple App Store or for Android on Google Play. This mobile resource allows you to add sessions to your schedule and receive push notifications regarding convention announcements.
Visit GBTA's Know Before You Go Outline for entrance and shuttle information and instructions for accessing Wi-Fi.
Follow GBTA on social media for important updates and specific event information.
Plan a tentative schedule that includes events and workshops that align with your company's current goals and travel program needs.
Join networking events and visit the expo hall to meet with potential travel partners.
Attend Key Education Sessions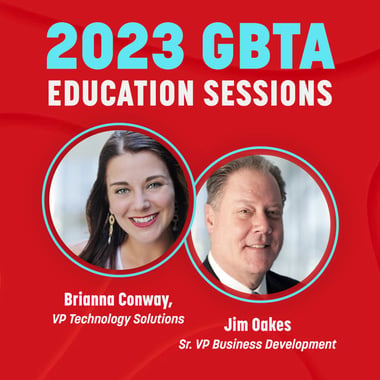 Events like GBTA engage attendees beyond a virtual setting with unique, organic experiences that fuel value-added interactions. This is evidenced by a recent Skift Meetings report that found nearly 80% of conference-goers agree that in-person events offer contributions that can only be acquired at trade shows and conventions. Education sessions are a key component of this, which is why our team is lending their expertise to speaker panels and educational workshops at this year's GBTA.
First up, Direct Travel's VP of Technology, Brianna Conway will join our partners at Deem for "Practical Magic: Balancing Cost Control With Great Travel Experience" (Aug. 14 @ 11-11:45 a.m. in Room D221). This hands-on workshop is designed to help travel managers create new possibilities within cost control that won't compromise the traveler experience. Attendees will walk away from this session with an understanding of specific tactics for reducing spend plus how to apply these strategies and enhancements to existing travel programs.
For our second session, Direct Travel's Senior VP of Business Development Jim Oakes will join a panel led by OMNIA Partners to talk "Investing in a Travel Program with the Power of a Group Purchasing Organization" (Aug. 15 @ 9:45-10:30 a.m. in Room D221). Jim and those presenting will explain both what a GPO is and how it can assist in the ever-changing world of travel procurement. Through this panel, attendees will gain a better understanding of the buyer's ability to expedite the sourcing process and knowledge of how to access category management through the GPO.
Go Beyond the Convention Experience
Beyond the schedule of educational activities, recent research shows that convention-goers now crave local experiences that take them beyond the convention center and their hotel room. To make the most of your visit to Dallas, consider venturing out in a group (unless solo travel experiences are your forte!) for an evening of live music, local culture, and amazing food.
For an experience involving unique eateries and shopping, visit the Bishop Arts District just a few miles south of downtown. The area is known for its diverse nightlife, vibrant street arts, and local fashion boutiques. If live music is at the top of your list while visiting new destinations, check out Deep Ellum near downtown to experience what has been dubbed the "live musical capital of North Texas."
For art enthusiasts, the Dallas Arts District is a must see. One of the largest urban arts districts in the U.S., it features both the Klyde Warren Park and the Nasher Sculpture Center. For those who would rather escape the urban setting with a relaxing walk or brisk jog, visit White Rock Lake (just a few miles east of downtown) and enjoy an amazing sunset over the Dallas skyline.
Join Us for Happy Hour (or a Coffee Break!)
As you plan your education sessions and prepare to experience Dallas, don't forget to meet with our team or attend a Direct Travel demo at booth #1701. It's easy to remember our location, located just to the right as you enter the Expo Floor, you can't miss us!
In addition to learning how we're taking the "wait" out of business travel, you can enjoy your choice of beer or wine during happy hour or join us in the mornings for a coffee break. We'll also be handing out our signature red leather luggage tags, ensuring you don't miss your bag on the luggage belt as you make your way back home.
The wait is almost over—we look forward to seeing you in Dallas!