Corporate travel goals have shifted significantly for most businesses throughout the COVID-19 pandemic. For individuals tasked with managing travel, a common thread tying many of these shifts together is the increased importance of duty of care. More specifically, standard of care.
What does this mean exactly though, and what separates the duty of care expectations of pre-pandemic from the standard of care expectations of post-pandemic business travel? To explore this topic, Direct Travel brought together risk management and technology experts for DirectLive, our webinar series developed exclusively for Direct Travel buyers to help them tackle the challenges and opportunities facing their corporate travel programs.
If you missed the discussion you can access a recording here. To get you and your team started, we've distilled key insights from the DirectLive webinar below.

Redefining Standard of Care
Prior to 2020, most organizations historically viewed standard of care through a single, duty of care lens, which could be defined as a business's legal and ethical responsibility to ensure the safety and wellness of their employees. In the case of business travel, this typically referred to employees actively on the road.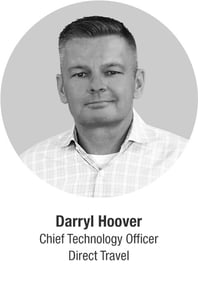 However, as Direct Travel's Chief Technology Officer Darryl Hoover pointed out during the webinar, the impact of COVID caused companies to reevaluate their standard of care offering and evolve it to incorporate pillars of pandemic and post-pandemic care. Whereas duty of care is anchored by the traditional pillars of locate & communicate, alerts, medical assistance, and evacuation, pandemic or post-pandemic care adds entry & exit requirements, proof of immunization, local restrictions, and logistics to the overall standard of care offering.
"It's not only about being able to deliver services and help keep employees safe," said Hoover. "We're also improving the traveler experience and reinforcing the value that companies place on their most valuable assets—their people."
Proactive Messaging and Timely Information
The spread of COVID-19 and corresponding travel restrictions have created new challenges that demand new solutions. One such solution for pandemic and post-pandemic care is Direct Travel's partnership with COVID and travel intelligence application sherpa°, which pulls data from more than 2,000 sources to help travelers quickly identify requirements for travel.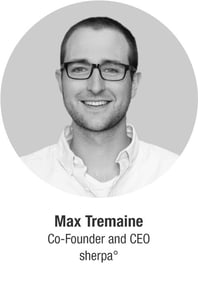 Max Tremaine, Co-Founder & CEO of sherpa°, shared how crucial proactive messaging is in helping manage the flood of information brought about by the pandemic in a timely fashion. As an example, Tremaine pointed to the recent lifting of the U.S. travel mask mandate. News surrounding the lifting came not from the CDC, DHS, or the usual sources travelers would typically look to for information, but out of the federal courts. Within hours, airlines had adjusted their policies and travelers had to navigate another COVID-related change.
This shows how much and how quickly travel can change from when a traveler books to when they actually hit the road. With a tool like Direct Travel's sherpa°-powered intelligence hub, travelers can access real-time details regarding restrictions and changes at all stages of their journey, from research and booking to traveling and returning.
Adapting to this new mindset matters to global business travel in part because the days of restriction-free entry are largely gone. In March 2019, only 64 countries required electronic documentation as part of the entry process. By 2023, sherpa° projects that number will climb to more than 150 countries.
"Many countries now want to know more about travelers crossing their borders than they ever have before, such as where they've been previously and their health history," noted Tremaine. "These are new requirements, which will likely outlast COVID."
Transitioning to People Risk Management
Just as standard of care has grown to include pandemic and post-pandemic care, the core principles guiding duty of care have also evolved. Rather than focusing solely on the core elements of travel risk management, many duty of care providers now emphasize people risk management.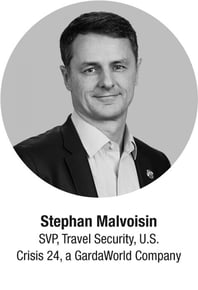 Stephan Malvoisin, Senior Vice President of Travel Security for GardaWorld's Crisis24, explained that this shift was escalated in part due to the large number of employees now working remotely. Prior to COVID, risk management and duty of care obligations were largely limited to employees on the road or working in the office. Now, many employees are working from home at the direction of their employers, or in some cases, traveling for personal reasons while working remotely.
"COVID was of course unexpected, but it served as an accelerator for conversations that were already going on regarding people risk management," said Malvoisin. "Now we've updated and extended our data sets to create a larger framework that provides much more granularity and specificity in the event of an incident impacting not only travelers, but expatriates, local employees, and assets in the area as well."
While business travel is typically the focus, a people risk management approach also allows companies to extend their standard of care into their employee's leisure travel. For example, although a corporation might not do direct business in an area impacted by a disease outbreak or a security threat, an employee visiting that area for personal travel purposes may be affected and consequently bring that impact back into the organization.
"A guiding standard of care philosophy that resonates with businesses post-COVID is this: We need to be where our customers or employees are at today, not where we want them to be" said Hoover. "And that includes both our methods of communication and the types of information we are sharing with them."
Join Our Next DirectLive
The past two years have transformed both the world of travel and the work environment as a whole. To help stay abreast of this changing landscape, we encourage you to sign up for our business travel newsletter, packed with strategic insights and the latest news⁠—including our next DirectLive session, coming this July.