When we arrived in Portugal, we were picked up by Tours For You in a Mercedes sedan. They were very reliable and provided an excellent guide and driver. Their bus was immaculate and always provided beverages. We transferred to Tivoli Palacio de Setaeais, a magnificent palace in the hills of Sinatra, where my room was waiting for me at 7:00 am. This hotel has very attentive staff who knew us by name immediately. We had lunch on a picturesque terrace overlooking the Pena palace and the village of Sintra. After a visit we were then treated to a wonderful dinner.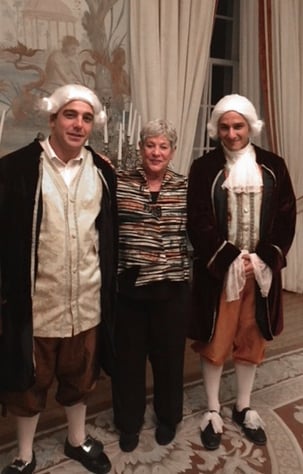 Day 2 gave us till noon to enjoy our 30 room palace and explore the beautifully manicured grounds. After another lunch on the terrace where the chef cooked in front of us, we saw more of Tivoli Palacio de Setaeais. The General Manager showed us the innovative things he was doing with his hotel. I was now beginning to understand how much the Portuguese are into fine food, wine and, of course, port! We were then whisked off to the Belem area where we passed through the resort towns of Cascais and Estorile. Dinner was another amazing experience! The staff even dressed in period clothing which totally surprised and delighted us!
Day 3 began early as we were off to the Algarve, a rather long drive. Our first stop was the Tivoli Carvoeiro, a unique hotel property set on the hills overlooking the ocean. The 2 hour lunch was amazing served by a menu on request and further confirmed Portugal's love of food, wine, and port. After we toured the hotel property of this very cool hotel, we were off to Anantara Villa Moura, a beautiful resort that has a partnership with Veuve Clicquot. We were told dinner would be a gastronomic experience and truly it was. Their sommelier paired the food to the many selections of wine. The General Manager and his wife previously worked at Richard Branson's property, Necker Island in the British Virgin Islands, and again we had a fantastic meal and entertaining evening. Our next day was spent shopping with the chef at a local market, cooking class, and lunch.
I left the Algarve by train to Lisbon where I spent my last night at the very hip Tivoli Ave de Liberdad located in a very upscale area. It is only 15 minutes from the airport and 15 minutes from the cruise port. The hotel was hopping in the morning with business travelers. Every hotel I visited in the collection was fantastic and provided unique experiences for their guests. If Portugal is on your list, contact us today to book your next trip to these fabulous properties!