As travel represents a sizable portion of your budget, we know that your goal is to create a competitive supplier strategy that results in high-quality service and cost savings. Proactive performance tracking and regular agreements evaluation can help you build a stronger relationship with your travel suppliers and make key decisions to advance your travel program goals. Here are four ways to assess those relationships and save money in the process:
1. Negotiate Hotel Rates Early
Often hotel rate negotiations get pushed until after the new year. If this happens, travel managers risk losing out on the best rates possible. For instance, hotel rates are expected to rise as much as 3.5 percent in 2018, according to research conducted at New York University.
By holding negotiations in Q3, or as early as possible, travel managers have more leverage, allowing them to bargain for better rates in the coming year. Suppliers may not be keen on holding early negotiations, so managers need to be prepared to advocate strongly for a meeting. A travel management company (TMC) can help with this process, freeing up travel managers to work on other important tasks. In fact, Direct Travel has an entire team devoted to supplier negotiations.
TMCs have the resources to employ advanced negotiating tactics, such as finding ways for businesses to leverage their value to suppliers and reduce risks throughout the supplier pipeline. A dedicated travel management provider will work with your organization to tailor negotiations so they speak to your company's needs.
2. Use Data to Negotiate Supplier Contracts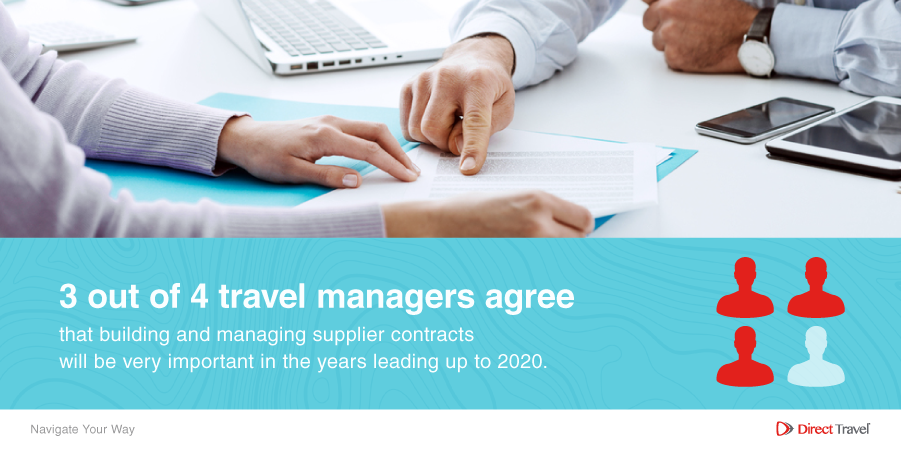 Data is critical to a successful supplier strategy. When travel managers have accurate data concerning the expense of their programs, they're in a much better negotiating position. Hard facts and figures persuade more easily than gut feelings and opinions.
According to a report from the Global Business Travel Association and Sabre, 61 percent of travel managers say building and managing contracts with suppliers is one of their most time-consuming activities. 77 percent, however, believe that such work will be very important in the years leading up to 2020. By collecting and analyzing historical travel data, managers can potentially get more out of their negotiations. For example, travel managers should collect data about the number of travelers per year, frequented destinations and budget trends. These figures will give them leverage at the negotiating table, helping them make the case for improved rates.
Travel managers should augment their supplier data with information from the expense reporting system. TMC data typically includes information regarding travel and lodging booked within the program. However, many corporate hotel bookings - as much as half, according to one report on Business Travel News - are made without the preferred agency. To have a better bargaining position, travel managers need to have a clear picture of all expenses.
Check out our blog post on 5 Tips for Negotiating with Travel Suppliers.
3. Employ Integrated Technology When Possible
Technology allows for the collection and analysis of important data, but it also makes supplier compliance easier to track. Accurate tracking is helpful for businesses that utilize many suppliers, especially in multiple countries. Ask your TMC if they have a contract tracking technology. For example, Direct Travel's Contract Optimizer manages and tracks multiple air supplier contracts to optimize performance, evaluates existing contracts and determines ideal sales targets to maximize contract benefits.
Solutions such as digital booking platforms and mobile messaging can also help with preferred supplier utilization and performance tracking. If a travel policy is simply a static document that is not easily accessible, it might not be as effective as a policy that is reinforced with integrated technology. Then it can make a big difference to the budget.
4. Hold Suppliers Accountable for Traveler Interactions
Transparency is a key aspect of the travel booking process. When suppliers try to sell directly to travelers, it makes it difficult for the travel manager to collect accurate reporting data.
Over time, off-policy bookings can add up and reduce your negotiating power. They also create risks around traveler safety. One way to reduce these risks is to restrict travelers from booking directly with a supplier, instead directing them to a corporate-approved booking platform. Doing so will ensure the accurate capture of data and cost savings down the road. Travel managers should work with a TMC to assess the procedures and technologies employed by ground, air and lodging suppliers to guarantee that travelers will have few difficulties booking with suppliers.
At the end of the day, negotiations are about developing a relationship that benefits everyone. The working relationships between travel managers and suppliers, as well as with the travelers themselves, form the foundation of productive negotiations. Business travel is the recognition that doing things face-to-face is often more effective than digital interactions. Companies understand that client relationships are important, and that sentiment should apply to supplier relations, as well.
Want to learn more about how to build strong relationships with travel suppliers and execute better contracts to maximize savings? Contact us today!