When it comes to mandatory business travel, employees like to exercise autonomy, particularly at the outset of planning their trip. The perception that self-booking offers more options with personal benefits through credit card or supplier loyalty rewards programs often motivates employees to book travel on their own. Travel and Expense (T&E) is likely the second largest controllable line item in your budget, and the ability to manage it is critical to your business. So, how can you strike a successful balance between traveler satisfaction and cost control?
Working in partnership with a travel management company (TMC), your organization can begin to realize this balance. Harmonize the needs of travelers with the needs of the organization by putting reasonable control measures in place. To effectively do this, your business needs to first examine the barriers limiting your travel program adoption rate. Some of the more common refrains include:
Fee Avoidance
"If I book through the TMC, I have to pay an extra fee, which then costs the company and/or my department more money." Have you heard this from your business travelers? TMCs have negotiated supplier agreements with a number of different travel providers that allow for discounted rates to display in a comprehensive fare search. If you're paying an extra fee to book through the TMC, chances are the fare being offered is at a significantly reduced cost in comparison to the published rate online.
Culture of Procurement
Does your business have a procurement policy or practice in place for office supplies? If you need more notepads, perhaps you complete an online form, submit the request, and the expense is then billed back to your department. The process can be cumbersome at times, but we accept it as a necessary exercise in efficiency and accountability. The same should be true for travel procurement. In many companies, an employee books his/her travel – air, hotel and car – and then submits the receipts for reimbursement. This faulty process reinforces the notion that self-booking is acceptable in lieu of an effective and enforceable procurement policy for travel purchases.
Predictive Technology
Have you noticed that once you began shopping online, suddenly every time you log into your browser, ads for the exact or similar items appear? Predictive technology is a collection of tools capable of discovering and analyzing patterns in data so that past behavior can be used to forecast or shape likely future behavior. If your employees have used United Airlines to book the majority of their vacations, this pop-up will appear as soon as they go online, encouraging them to book a trip through the airline's site. And why wouldn't they? With one click it's easy, constant and accessible. What they won't see on the airline's site are the rates that were negotiated specifically for your travel program. That means that those tickets will not be tracked towards the company's overall spend resulting in less leverage in future supplier negotiations.
After assessing these barriers, ask yourself what hard dollar value can a TMC bring to your organization? In our years of experience, that answer is clear: a 10-25% reduction of the travel and expense line item in your business' budget. In order to achieve this range of savings, your TMC should work with you to hone in on the following key areas: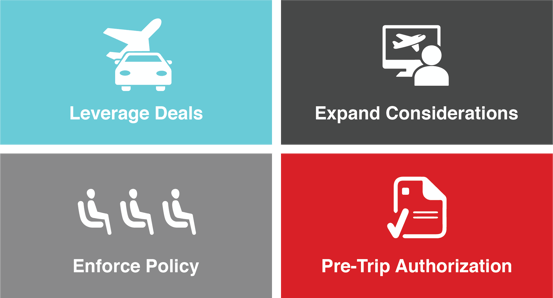 Leverage Deals
TMCs develop relationships with preferred travel suppliers in order to negotiate valuable deals that can be offered to customers. These deals might include car rental agency offers, a personalized airline rewards program for the company, contractual discounts, or hotel promotions with your most frequented properties. Through automated tools, your TMC will track your company's travel volume and spend, then use that data to ensure you have the best deals with the right suppliers. A large TMC will also be able to leverage their buying power with suppliers in order to provide even greater discounts and soft-dollar savings to their clients. Effectively communicating your organization's preferred supplier strategy and deals to your employees will help to reduce the number of travelers who book out of policy.
Expand Considerations
This speaks directly to those employees who are actively targeted through predictive technology and feel they are getting better options outside of your travel program. Three things should be of concern: 1) Not every site displays all potential suppliers and fares; 2) Some sites are programmed to be notably biased towards their preferred suppliers; 3) Some sites are notably biased to the traveler (using predictive technology) making it hard for them to assess all possibilities. Make sure you direct travelers to an unbiased company-approved online booking tool, or a tool that is biased to the company's preferred suppliers. Without reasonable controls, misuse and overuse of biased travel sites will drive up costs.
Enforce Policy
With the exception of some VIP travelers, most organizations direct their travelers to fly in coach class. That seems straightforward enough, but do you dictate which coach fare is acceptable? For example, should the traveler chose a full coach ticket for $760 or the same basic routing for $285? Policies so often fall short in defining pricing thresholds that would otherwise indicate when travelers should consider alternate fares: a different airport or departure time, a connection, or depending on the route, a non-preferred airline may need to be considered. Your company culture should respect traveler convenience while setting well-defined and reasonable limits for travel expenditures. Want to reach your travel policy compliance goals by empowering travelers to make the right choice? Click here to learn about Direct Travel's gamification strategies.
Pre-Trip Authorization
When a traveler wants to book a fare that is outside the thresholds as defined in your company's travel policy, do you have an approval system in place to accept or refuse the request? A TMC can help your company design and automate a pre-trip approval process to ensure the right data is available for management to make a timely and informed decision concerning travel authorizations. For some companies, several layers of approval are required before a traveler's proposed itinerary is authorized. In these cases, it is crucial that the approval process is automated and expedited to: 1) observe time restrictions for certain fares and 2) save valuable time for the traveler so they can prepare for the trip rather than rearrange travel plans at the last minute. A well-designed pre-trip authorization process will save your company and your travelers both time and money in the long run.
Take time to analyze the barriers that exist in your organization as they pertain to travel and related costs. Ask your travel management company to assess how these four basic principles are applied to your program. By finding the balance between what's best for your business and the needs of your employees, you and your company will be successful in controlling T&E costs.
Want to learn more on how to align your goals and transform your T&E into a cost-saving managed process? Download our travel and expense process guide today.
The Essential T&E Management Process Guide