How are you powering your business forward and reaching new goals to put both people and the planet first? The new standards of corporate travel have evolved post-pandemic and call for a stronger commitment to sustainability, DEI, and traveler wellness.
From going green to embracing diversity in the industry, it's time to retool your travel program to meet the moment. To help you get started, we've created a whitepaper you can download and share with your team. Below are some of the top takeaways for building a future-forward travel program.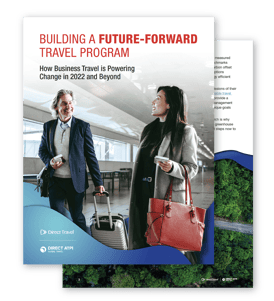 Sustainability Makes a Difference
Smart travel programs improve the health of the planet through a major effort to rethink and reduce carbon emissions. Notably, carbon offsets within travel programs can help cultivate a greener planet and thereby contribute to a stronger workforce. By partnering with internationally recognized offset projects, businesses can create unique and customizable solutions that provide a clear path to reaching sustainability goals, regardless of organization size.
We take an in depth look at this in the whitepaper and explore the ways you can implement sustainability initiatives, such as:
Tips for going green on both traveler and supplier levels

CO2 monitoring and reporting that aligns with your company mission, brand, and goals through Direct ATPI Halo

Developing a sustainability program that adheres closely to current targets while staying on track with cost savings
Progressive Organizations Value DEI
Future forward companies strive to follow the United Nation's SDG List which includes a commitment to improving diversity, equity, and inclusion, aka DEI. Diversity among employees allows companies to relate better to various audiences and leverages the talent base. Many industries are discovering the value of DEI and the travel industry is following suit.
Our guide to a future forward travel program maps out a route for addressing DEI in your travel program, including:
Questions to consider as you adjust your RFP and supplier vetting process

Assistance with policies and sourcing strategies that support inclusion

Research on the impact DEI can have on your program
Trip Approval is Back
Employees are energized and eager to resume face-to-face meetings, training sessions, conferences, and trade shows, but they also want to feel safe and confident as they navigate the new travel terrain. Complicated and time-consuming trip management hinders productivity and breeds frustration. Supporting traveler wellness and confidence through simplified trip approval helps you to stay on track with goals and big picture items.
Our outline for creating a Future-Forward Travel Program maps out precisely how travel managers can play an integral role in traveler safety and wellness by keeping employees informed and connected. Here are a few highlights from the whitepaper to help you tackle the process:
Tracking tools that manage testing requirements, vaccination status, booking parameters, trip communication, location threats & alerts, and more

Guidance on new policies and pre-trip parameters

Tips on establishing incentive programs that encourage compliance
Touchless Travel Tech Matters
Touchless travel technology has become increasingly important since the onset of COVID and is now a hot topic within industry. Creating travel experiences that are as touchless as possible is one way to impact traveler confidence and safely streamline the journey.
Travel industry partners are doing their part, including hotels with specialized guest apps and airlines offering mobile boarding passes. Another great way to improve efficiency within the touchless travel experience is through V-cards (virtual payment cards). This form of payment is now widely accepted and can be utilized by suppliers and buyers.
Our whitepaper offers a closer look at how you can implement increasingly advanced technology in your travel program and manage checkpoints throughout the travel journey with ease, including with the latest version of our Direct2U mobile app. While the travel experiences will continue to morph as technology changes and advances, this will result in an improved traveler journey and make it safer for employees on the road.
Taking Travel to the Next Level
The new landscape ahead calls for a rethinking and reimagining of the way businesses approach travel. Corporate travel programs can be a leading source of change and growth for organizations, particularly when both people and planet are put first through progressive policies and proactive management.
Our Future-Forward Travel Program whitepaper can help you set your business on this course. Download this free, comprehensive resource to get started.